By Beth Norris, Journey to Oz Backpacking client
Mike and I married in the fall of 2016, and an adventure to Alaska was at the top of our bucket list! Shortly after our first anniversary, we started to seriously plan our trip. We knew we wanted to spend two weeks in Alaska, but where? We spent some time in Anchorage doing a lot of the standard tourist activities, but that was the end of our "typical" trip. We took two small planes to get to McCarthy, including a single-engine 4-person plane. It was on this flight that I began to realize how amazing our trip was going to be! It was a crystal-clear day, and we flew through the mountains and got close-up views of Mt. Drum, Mt. Wrangell and Mt. Blackburn. Although I have spent a lot of time in Colorado around fourteeners, these mountains were impressively massive and majestic; I was awestruck.
As we neared the McCarthy airport, we were able to get a great look at the Root and the Kennicott Glaciers, which we would soon be traversing. We also had terrific views of Kennecott, an old copper mining town that has been frozen in time. After meeting our guides and learning we were going to reverse our route (due to significant snow on the mountain pass), we knew we were in very competent hands and appreciated their flexibility.
On our first day, we started with a short hike to the Root Glacier, set up camp, and went out on the glacier to learn how to use our crampons. We started right off the bat with ice climbing, scaling a towering wall of glacier ice. This first day checked off so many wishlist items, including exploring an ice cave! We were blown away by the intense glacial blue colors on display inside the cave.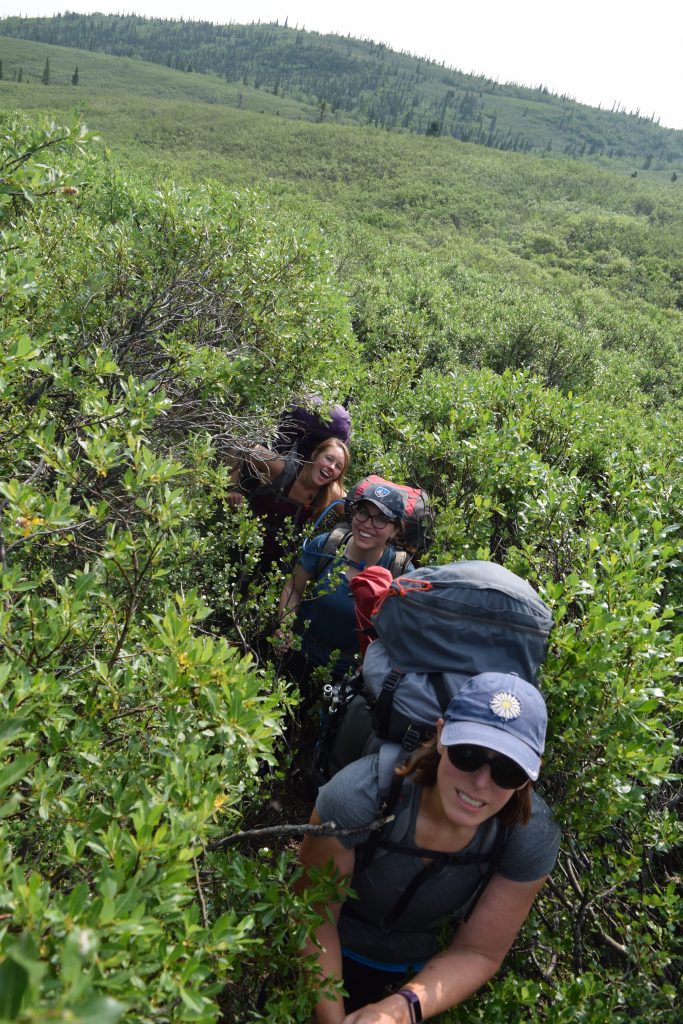 Our second day was spent crossing the Root Glacier and bushwhacking through Donoho Basin to a campsite that looked up towards the Kennicott and Gates Glaciers. As our first introduction to Alaska bushwhacking, we thought it was thick, but were later proven wrong. Crossing the Kennicott Glacier on the third day avoided the bushwhacking, but afforded other challenges associated with glacier travel. By the end of the day, we were all ready to be done crossing glacial moraine! We ended our day with a hike up a steep hill – I never thought it would've been possible to ascend without ropes and climbing gear, but our guides Paige and Cody created a switchback trail out of nothing, safely navigating us up the hill. This hill stretched my comfort zone, but Paige and Cody talked me through it.
This next day was where we really learned about Alaska bushwhacking. The brush towered over our heads, and at times, the alders were so thick, our feet didn't even touch the ground! Popping out of the bushes, we were excited to find a 12-inch wide trail to follow. Realizing that there would not be a man-made trail running the length of our journey, I now understand why Gaia personally interviews all her clients to make sure they are up for the challenge! We spent the evening on a river bed, discovering that we were camped near some grizzly tracks (they were larger than my hiking boot!) Our guides estimated the bear had navigated the streambed earlier that day, well before we hiked into the area, but I was pretty glad we did not meet up!
It took us the next day and a half to get up to the mountain pass at 6,500 feet.  It was still snow covered (and started snowing on us while we were there), but it was a magical wonderland. The hazy gray sky blended into the snowy mountains, while snowflakes the size of ping pong balls fell ever so quietly. I cannot describe the beauty and serenity of that moment, but it is something I know I have never experienced before in my life! Descending from the pass, we hiked into "Oz," a land of lush greens that rival the blues in the ice cave. Even the alpine lake near our campsite was emerald green, and our camping afforded us a "Loo with a view," adding a little luxury to doing our business.
The next day was our last full day of hiking, and we hiked down the mountain to the Lakina River. I stretched my comfort zone once more as we descended a seemingly-vertical gully of scree to the river. Compared to going uphill, when descending, it is easier to tip back and slide on your butt if you get unsure of your footing. On this day, I also learned of the braided nature of Alaska's rivers. We must have crossed that river at least three times! Since the rivers are rushing with freshly melted snow and glacier ice, the temperature is not much above freezing, and forced us to be quick with the crossings!
Our journey ended at a hunting cabin along the Lakina River. We relaxed the rest of the day, looking back up at the mountains we had just navigated and reminiscing about our journey. The next day, our "knight in shining armor" flew in to fly us all back to McCarthy. Flying out in a little bush plane was the last treat of our adventure. Gaia and all the guides at SEAG really know how to make extraordinary adventures come to life, and I hope Mike and I get the opportunity to experience Alaska with them again.