Alaskan History, Frozen in Time
Kennecott, Alaska is a ghost town frozen in time. When the Kennecott Copper Corporation abruptly abandoned the town in 1938, they left behind their equipment, buildings, and personal belongings; yet, their stories of discovery, perseverance, and ingenuity live on!
St. Elias Alpine Guides holds the exclusive concession with the National Park Service, and access to the 14-story Concentration Mill is only possible through this tour. Come see what it was like to live and work in this remote wilderness as you tour the town site with one of our knowledgeable guides. Listen to tales of lucky fortunes, tenacious frontiersmen, and tragic endings. Gain exclusive access to explore inside the 14-story mill building and several other historic buildings when you join our tour! Our 2-hour historic Mill Town Tour is a must-do for anyone visiting Kennecott, Alaska!
ADVANCED RESERVATIONS STRONGLY ENCOURAGED!
Please note that this is not your typical history tour! The 2-hour tour involves walking a mile, including a hiking trail up a steep hill with ~150 feet of elevation gain. Once in the buildings, you will navigate areas that have low headroom and uneven floors. You will also descend multiple sets of stairs and ladders that are steep and uneven – all stairs and ladders have handrails. If you are traveling with small children, please make sure that they can navigate these stairs independently or that you have a hands-free carrier for them. Our guides are happy to assist as needed! Please refer to the pictures below to see an example of the stairs that you will need to navigate. Contact us with any questions you may have about the difficulty of the tour.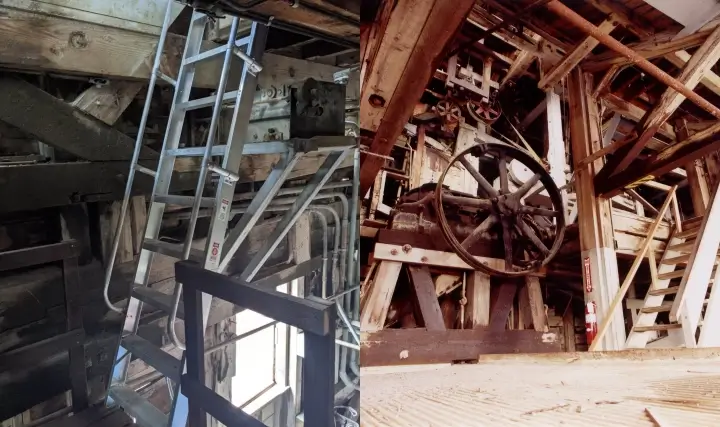 Price
Adult(13+) $34
Child(12-) $17
Terrain
Flat gravel trail, steep switch-back gravel trail, steep stairs and ladders, uneven flooring
Tour Length – Day Trip
2 Hours
Dates Offered
May 25th – September 8th, 2024
Tour Start Times
9:30am, 1:30pm, 3:30pm Additional 11:30am start time from July 1st – August 15th
Age Limit
All ages welcome, but it can be challenging for 3-5 year olds. Hands-free carrier required for those 2 and under.
Group Size
15 guests to 1 guide, multiple tours can go out at each time slot. Private options available upon request! Tours requiring a translator must be booked as a private tour.
Tour inside the 14-story concentration mill

Learn the fascinating history of one of the richest copper strikes in history

Listen to amazing stories of the people who lived and worked here in this remote, mountain wilderness

See buildings, mining equipment, and personal artifacts left as they were in the early 1900s
Knowledgeable guide
Exclusive access to historic buildings
Hard Hat
Gratuity
Transportation to/from Kennecott
Come prepared with the following:
Closed-toed footwear
Rain Gear (just in case)
Camera/phone for pictures!
There are many buildings open to the public that our tour does not enter. Take some extra time before or after the tour to explore these buildings. Public buildings are open 9am to 5pm. Check in with our office for additional information.
Can I do the Half-Day Glacier Hike & Mill Tour on the same day?
How do I get around town once I arrive?
Regardless of how you arrive in McCarthy, be advised that no outside vehicles are permitted within the town, so don't plan on being able to drive yourself around. Uber and taxi services are a laughable concept out here in the bush…you'll see!

Within the towns of Kennecott and McCarthy, all local businesses and points of attraction are within walking distance.

To get between Kennecott and McCarthy most people ride the local Copper Town Shuttle (pricing and schedule change seasonally), however, you can also walk or bike the 4.5mi between the two towns.

The Footbridge at the end of the McCarthy Road is about a 20min walk from McCarthy. The Copper Town Shuttle also offers service to the Footbridge on a regular schedule.

Most local lodging hosts will provide transportation for check-in and check-out so you should be able to get to your accommodations from either the Footbridge if you're driving in or from the airstrip if you're flying in – check with your host for more details.

If you're doing an activity with us, chances are we provide transportation! Check with us if you are unsure if transportation is provided for your activity.
We are located in the heart of Wrangell – St. Elias National Park. There is a 60mi dirt road that connects us to the highway system and there is also an airstrip in town!
There are several options for getting to McCarthy-Kennecott – driving, riding in a van shuttle, taking a scheduled or chartered flight, or some combination of these options. Please visit our Transportation+Lodging page for more detailed information.
FULL FAQ PAGE
The tour was outstanding by any/all measures-story telling, knowledge of the facts and information, attention to safety, etc. I was really impressed by [the guide's] level of knowledge of the site!
Rebecca T | Mill Tour | 2022
Amazing. Far exceeded expectations. Historic, business knowledge, anecdotal, and adventurous, and gorgeous. This checked all boxes for me.
Anonymous | Mill Tour | 2022
Guide was extremely knowledgeable and presented the mill and town history in an interesting and easily understandable way.
William & Mary Slotter | Mill Tour | 2022
This is an extraordinary chunk of history. The tour was comprehensive and fascinating. So glad I had this opportunity!
Tove Lise King | Mill Tour | 2022
This is an excellent tour- history is fascinating + scenery is outstanding. This tour is a favorite of mine in National Parks because of the amazing combination of history and scenic views! The guides are wonderful at pointing out the highlights.
Emily Ridley | Mill Tour | 2022
Kennecott mill tour is an absolute not to be missed tour in the area. It makes one appreciate how the mining occurred back in the day under precarious working conditions
Atanu | Mill Tour | 2021
"We were all very pleased with the tour, our guide was very kind and knowledgeable on the inner workings of the mine and our group really enjoyed the tour. Thank you for offering a neat way to learn about part of Alaska's history!
Kailey | Mill Tour | 2021
Meet the incredible guides that are the heart of our trips!
Who are the guides that make up the St. Elias Alpine Guides team? They are a diverse and competent group of people from all across the country. Their extensive outdoor experience, wilderness medical training, and great personalities make them stand out from the crowd. We put them through a thorough training program unique to our area – glaciology lessons, backcountry navigation, and training trips on the slopes of the Wrangell Mountains add to our guides' abilities to adapt and dominate in the diverse terrain of WSENP. From a glacier hike to an 8-day expedition, they'll be sure to make it a trip of a lifetime!

Because our schedule is as dynamic as the environment we live in, we usually assign guides the night before for our Day Trips. And while we can't guarantee who your guide will be – we love and trust every one of them and we know you will too!