St. Elias Alpine Guides is the longest-running business in the Park and has grown from a staff of about 5 to nearly 50 in the several decades we've been around. In that time, we've developed an amazing company culture, comfortable infrastructure, and maintained access to the most inspiring outdoor office you could ever dream of! We attract dedicated and talented people from a variety of backgrounds and have a high retention rate because of our dedication to their growth and development. Founded and led by climbers and guides, we value and nurture the tradition of mentorship, recognizing that we all start at the bottom of the mountain to climb to the top. We have developed an intensive training program with many additional learning opportunities for our staff to develop both their soft and hard skills, growing as guides and as people. We believe that our industry and the wilderness itself have a lot of lessons to teach, and as life-long learners, we hope to keep learning from the mountains as long as we can!
Wilderness and adventure are everything to us. True wilderness is the raw truth of nature, the virgin landscape, the untouched and unencumbered, pristine, and pure. The levels of remoteness and wilderness are palpable here in WSENP and they are what set the adventures out here apart. Without conveniences like trails and weather stations, adventures out here are completely self-supported and when dealing with a very dynamic environment they are chock-full of the unexpected too. Taking on the unknown is the essence of adventure, the highlight of the best trips, and what fuels us to explore unfamiliar and changing terrain. Our goal is to inspire the same type of connection to the wilderness in our guests and our community through authentic adventure.
Adventure is a State of Mind
As guides, we empower adventurers to fulfill their trips of a lifetime. In Alaska, the adventure often starts in the Anchorage airport with something not going according to plan and continues at a steady level for the duration of your stay in the state. Not everyone at SEAG is a guide, but everyone is an adventurer and guided by these 11 core values:
Professionalism
Proficiency
Accountability
Good judgment
Adaptability
Grit
Individuality
Humility
Approachability
Confidence
Stoke
SEAG is located in the heart of the largest National Park in the United States, Wrangell – St. Elias National Park. Guides, Interns, Office Team Members, and a few other employees live together at our rustic compound, centered around the historic Motherlode Powerhouse, in McCarthy, AK. All employees take part in a variety of duties and chores unique to living and operating in an off-the-grid, Alaskan bush community in return for housing and other services. Every employee gets a canvas tent and use of communal grounds, garden patches, outhouses, kitchens, sauna, library, workout equipment, bouldering gym, and lounge with power and wifi. The company provides logistical support to employees such as food delivery and transportation at the start and end of the season.
For our 2023 season, St. Elias Alpine Guides will be leading trips starting May 26th and ending September 10th. Training will start in the second half of May and all new employees are required to attend. At the end of the season, there is a week or so of Closing Chores that all employees participate in to winterize the compound before departing. There may be some flexibility for different start or end dates which will need to be discussed ahead of time.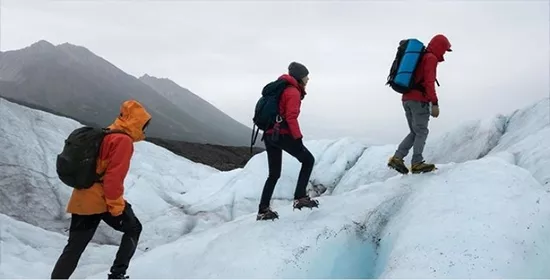 As in many outdoor programs, the work is generally mentally and physically demanding with long hours spent working in challenging environments. In addition, off-the-grid life requires us to deal with the dynamic Alaskan environment in creative and spontaneous ways. Our special community requires everyone's effort to be positive and contributing members throughout the summer season. Those looking for a glamorous mountain guiding job should look elsewhere.


Our company is dedicated to growing professional guides and well-rounded experts and there are many opportunities available to our staff to expand their skill sets and explore the Alaskan backcountry. We live active lifestyles and are serious about adventure – we believe in getting things done, both professionally and personally. That said, as with any experience, you get out of it what you put into it, and the rewards can be spectacular. Perks, promotions, and rewards in the company are largely based on merit.
Office Team Members
Glacier Hiking Guide + Historical Tour Guide
Ice Climbing Guide
Raft Guide
Intern
*All employees are trained in and work as Glacier Hiking Guides and Historical Tour Guide in addition to their specialty.
We also manage the McCarthy and Kennecott Guesthouses and Kennecott Trading Company Gift Shop and are hiring employees for barista and housekeeping posistions, too. These employees live with the SEAG guides and office team on the SEAG campus and enjoy many of the same perks as SEAG employees.
We start hiring in mid-November for the summer season and take applications until all positions are filled.

The hiring process includes email correspondence, reference checks, and a video interview usually lasting an hour – the entire process can take up to 2-3 weeks.

Before applying, please take the time to check out the trips that we offer and learn a little more about us and our beautiful home in Wrangell – St. Elias National Park.

To apply, please email the following application materials to [email protected]:
A cover letter stating why you are interested in working for us, which position(s) you are interested in, and your dates of availability for the summer

A current and detailed work history resume

A current and detailed resume or summary of outdoor experience and/or qualifications

Upon receiving your complete application materials, we will send you an email providing more information about the position and the next steps in the application process.