BASECAMP HIKING + PACKRAFTING

Discover true wilderness
Fly deep into the pristine backcountry of Wrangell – St. Elias and set up a central camp, exploring the surrounding area on day hikes or paddles. Each basecamp destination provides a staging ground for epic adventures without the burden of a heavy backpack or a committing point-to-point itinerary. Immerse yourself in the grandeur of Alaska's largest National Park.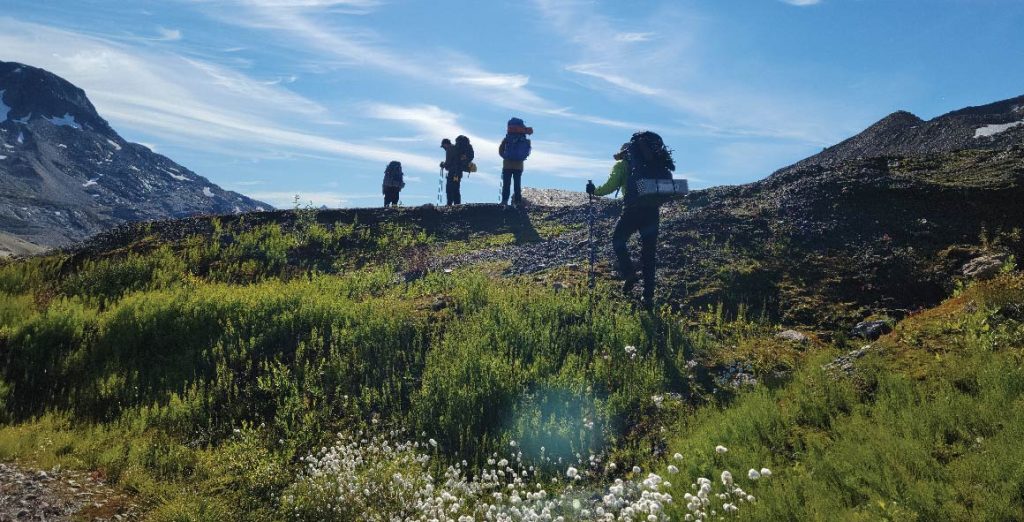 All of our Basecamp trips are offered in a Private Trip format and custom dates are available. Our Fan Glacier Basecamp is also available in a Group Trip format.


Need a partner or two to meet the Group Trip minimum? Find partners and new backcountry buddies on our dedicated SEAG Group Trip Facebook page!
We know this area can be a little tricky, logistically speaking, so we're here to help! We can arrange transportation to and from the Wrangells, local lodging, and other local activities before and after the backcountry trip. Upgrade your backcountry adventure to a Trip Package!
Customized trip planning
Orientation and a Gear Shakedown
Your professional guides
Scenic bush flights in and out of the backcountry
All the food while you're in the backcountry
Group gear and technical equipment
Basecamp Hiking Trips
How do I decide what Multi-Day trip to do?
All the pictures and descriptions sound amazing! How do I know what's right for me? Here are some things to think about when selecting a trip:

What is my #1 goal for this adventure? Do I want to relax and get away from a hectic schedule? Do I want to push myself on an epic and athletically challenging journey? Create life-long memories with my family or partner? Learn skills from the experts and grow my scope as a mountain athlete? See new landscapes and experience Alaska's unique glaciated terrain?
What are my interests? Birding, animals, photography, geology, wildflowers, journaling, athleticism, spirituality, art, technical climbing, etc.
Will this trip be part of a bigger Alaska trip? Where else am I going and what else will I see? Our glaciated terrain, history, high-altitude peaks, and vast backcountry wilderness are what set us apart from other areas in Alaska.
What am I comfortable with at my current level of knowledge, experience, and physical and mental ability? Alaska is bigger and tougher than anything in the lower 48 and it's a great place to push yourself, but you want to be realistic and make sure you have a good foundation to build upon if reaching for higher heights.
Do I have to carry my own gear?
Likely, at some point or another, at least a little bit, yes.

On a Rafting Trip, you can help the guides unload the boats, set up camp, and carry your dry bag(s) to your tent nearby. After breakfast, you can help take down camp and load up the boats.

On a Basecamp Hiking Trip, you will need to carry your gear about 5-20min from the backcountry airstrip to set up camp at the beginning of the trip and then pack up and carry it back to the airstrip at the end. Throughout the trip you will hike with a small day pack – this is usually 5-15lbs.

On a Basecamp mini-Backpacking Trip you will need to carry all your gear between the airstrip and your camp, which will be 1-3mi away. This means at least 2 one-way trips with the big backpack (usually 30-40lbs). After setting up camp you will enjoy day-hikes with a much lighter day pack (usually 5-15lbs).

On a Backpacking Trip, you will move camp almost every night and will need to carry everything you need with you. For a trip up to 4 days in length, you can expect packs in the 35-45lb range and for trips in the 6-8 day range, please be prepared for weights closer to 45-50lbs. The burly gear that is required for the Alaskan backcountry isn't very light so forget "ultralite" and think heavy-duty!
For all Basecamping and Backpacking Trips, the pack weight will really depend on what you bring, so we do recommend having a minimalist mindset. In addition to your own gear, we will be giving you a bear canister full of food and supplies, potentially another item like a fuel canister or a stove, and maybe a part of a tent if you're not bringing your own (we recommend sharing tents to save weight). Your guides are weight-conscious packers and will never burden you unnecessarily. It's likely that over the course of the trip you'll be able to start adding your own things into the bear canister and your pack should get lighter as you eat your food and use supplies.
If you would really like to do a Point-to-Point Backpacking Trip but are concerned about the pack weight, we also offer Porter services. Porters cannot take your entire pack for you, but they can help alleviate your pack weight significantly and offer other assistance as an assistant guide on the trip.

On our objective-based Mountaineering Expeditions, you will be required to carry all your own gear and some group gear between camps. Depending on the terrain, you may bring sleds with you for all or some of the route. Depending on the route, you may do stretches of the route multiple times, caching gear as you go, so you may not always have the full weight of all your equipment with you at all times. At maximum, you can expect weights of 80-160lbs to be split between a backpack and a sled and at minimum a 30lb bag for single-day excursions.
What's the difference between a Group Trip and a Private Trip?
Most of our Multi-day Trips are offered in both a Group or Private Trip format.
Group Trips have set dates and are made up of individual travelers or smaller parties like couples who don't know each other but are excited to adventure together! On a Group Trip, you'll meet new people with similar interests and be able to spread the costs of the trip resulting in a lower per-person rate. We need a minimum of 3 people to run a Group Trip at the Group Rate and they max out at 8 participants for land-based trips and 12 participants for rafting trips. Learn more about Trip Minimums here.
Private Trips have custom dates and are just for your party. Private Trips are great for families, especially those with young children, close groups of friends or couples just wanting to spend time together, or those with special interests like photography or birding that they want to focus on during the trip. On a Private Trip, the entire experience is customized to your party and you don't have to compromise to anyone else's interests or abilities. Private Trips can be for just one, solo adventurer or get as big as 12 participants for larger groups.
For both Group and Private Trips, we work with a ratio of 1:4 for land-based trips, 1:3 for rafting trips, and 1:2-3 for mountaineering and ski trips. This helps with any pacing or interest discrepancies and provides additional support for bigger groups.
FULL FAQ PAGE
We're experienced backcountry hikers & campers in the lower 48, but have never dealt with ice or glaciers before and wanted the security of expert guides. We got so much more! First up, our guides were funny, personable, patient, knowledgeable, and excellent teachers, with very clear communication skills. We hiked onto 2 separate glaciers and felt extremely secure the whole time--they gave us lots of coaching and instruction both in advance and on the fly as we encountered stuff. We also did a couple of day hikes just on the ground (no ice), and they were really great with all of their detailed knowledge of flora & fauna & geology. They also cooked us amazing meals (way fancier than we usually bother with in the backcountry, so it was practically luxurious). They were good with the adults (us plus another couple), and with our 14yo!
Saavik Ford | 2022
What an incredible experience and guide company. From the moment I reached out they were knowledgeable and friendly. They did a great job of listening to the experience that we were looking for and confirmed the best options for us. Great service and communication was just right in getting ready for the trip. Once in McCarthy the experience was top notch. Helping us get ready, shaking down the gear and taking care of all the details, our guide was incredible. Even with some weather in the area that caused our flight to get delayed by low clouds, we were informed and thoroughly enjoyed the trip. The 3 days out at the glacier lake were breathtaking. Literally almost no words to describe the beauty and immersive experience of kayaking around icebergs at the toe of the glacier and hiking on the nearby morraines. This guide service is top notch - professional, low-key, prepared, and they know their stuff!
2019
Our 30th anniversary included a multi-day base camp trip in the Skolai Pass (mid-July). This was our first trip to Alaska, and we were surrounded by spectacular mountain and glacier views as far as the eye could see. There are no trails, so our guide Cody lead us along Alpine flowers, mossy tundra, glacial rock slides, mountain streams, and a snow bridge. You'll need sturdy boots and trekking poles. If you want to 'get away from it all' I highly recommend starting in the Wrangler St. Elias region.
Lavonne Rus-Ogilvie | 2018
If you're looking to up the ante, check out our Backpacking Trips!
LOOKING FOR
SOMETHING MORE
CHALLENGING?