Mountaineering + Ski Expeditions
CLIMB AND SKI THE MOUNTAIN KINGDOM
Since 1978, St. Elias Alpine Guides has provided extreme adventurers access to North America's premier mountain wilderness – Wrangell St. Elias National Park. A convergence of three impressive mountain ranges, the Park offers endless remote, world-class climbing and skiing. We offer small-group wilderness-style expeditions – no fixed lines, no sherpas, no busy basecamp scenes and established camps, no weather stations, and usually no one on the mountain except our team!
Why climb or ski in Wrangell - St. Elias National Park?
Unlike the busy basecamp scene at Mt. Denali with bushplanes and helicopters buzzing overhead, out here you're not likely to see another party on your expedition

On May 25, 2022 over 100 climbers summited Mt. Everest. On the same day, our team of 10 summited Mt. Bear (15,831). They were the only team to climb and summit Mt. Bear last year…

Wilderness climbing is the purest form of the sport and will test your limits. No weather stations, fixed lines, sherpas, established camps, or skin tracks to follow – it's just you and the mountain.

While access to this remote and less-frequented part of the world is difficult, our logistical team keeps planning easy and your trip running as smoothly as possible.

Our team of expert and experienced guides will help you push yourself and achieve your personal best.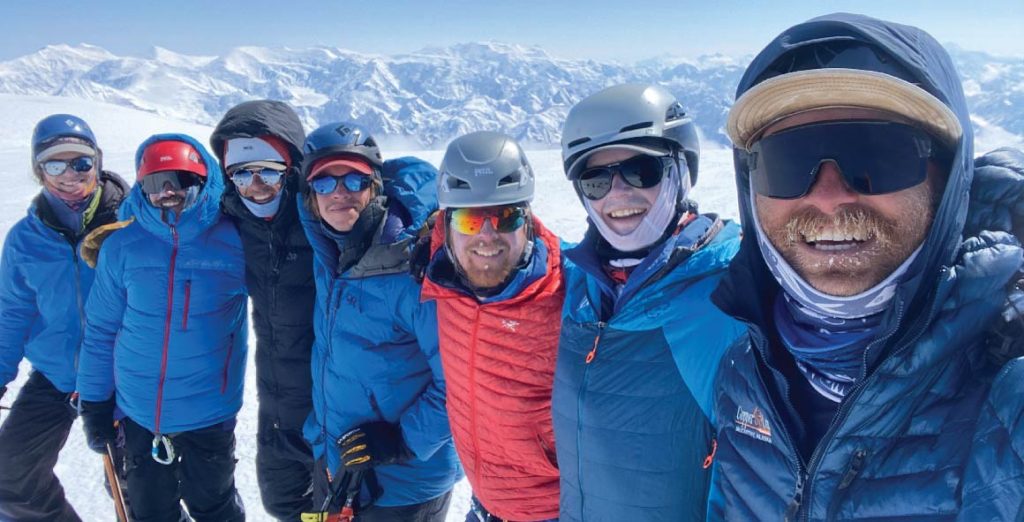 Want to climb something even further off the beaten path? Perhaps a wild peak with only one or two ascents to it's name. Or maybe a first descent is what you're after? Find partners on our dedicated Facebook page to  share in the adventure and spread out costs.
Already got a group that wants to climb in the Park? Contact our Expedition Coordinator to start planning your Private trip today!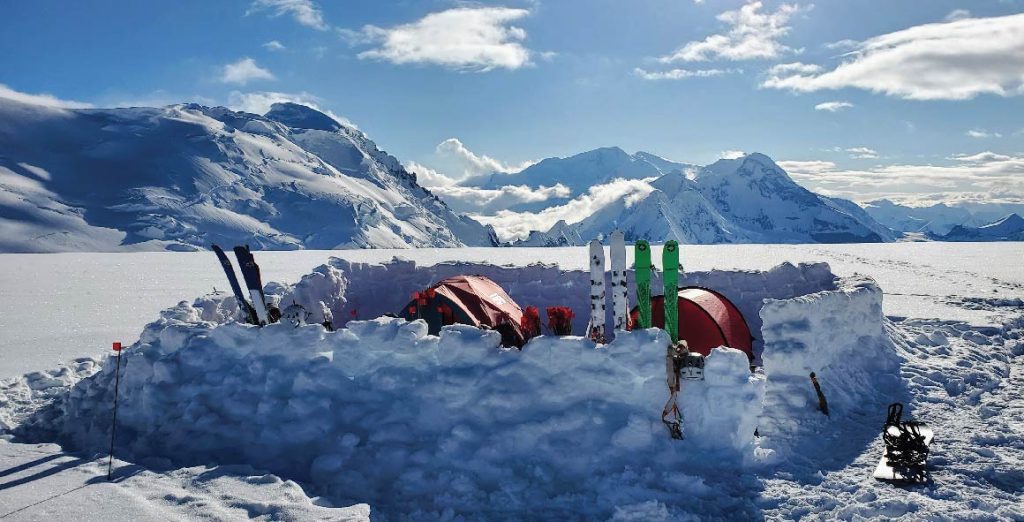 All of our mountaineering trips are all-inclusive Trip Packages!


Customized trip planning

Van transportation to and from Anchorage

Lodging in our historic bunkrooms (as far as capacity allows)

An orientation day at headquarters and group packing (most trips)

Your professional guides (2 minimum on each trip)

Scenic bush flights with technical landings for access

All food in the backcountry and in McCarthy

Group camp and technical gear (tents, fuel, sleds, ropes, etc)

You'll be responsible for your own personal camping and technical gear, getting to and from Alaska and gratuities for your guides.
Mountaineering + Ski Trips

Mountaineering + Climbing Courses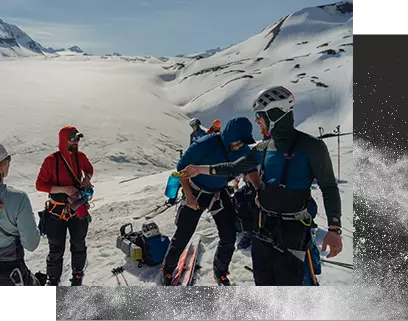 How do I decide which Mountaineering trip is best for me?
Consider what your goals are for this expedition:
Are they to learn as much as possible? If yes, we recommend a Course. A Course-style trip is completely focused on learning and solidifying your mountain skills to set you up for the next big adventure.
Is your goal just to have fun? Although fun is more of a state of mind that you can bring on any trip, our most fun-focused mountaineering trip is going to be our Chugach Backcountry Ski Basecamp. If you're not a backcountry skier or rider, consider signing up for a Private Custom trip and we can create the perfect fun-filled adventure for you!
If your goal is to conquor a major Alaska summit you should be looking at our objective-based expeditions, anything with "Mt. ...." in the title. Here the objective is to summit and descend safely. Each mountain requires something different so check out each trip and use the Alaska rating system to determine what level of difficulty or technicality you are ready for.

Remember that whatever your goals are, you can definitely have fun and learn on any trip - that part is up to you!
When should I book my Multi-Day Trip?
We usually start to take bookings for multi-day trips in the late fall – sign up for our newsletter to make sure you don't miss our season opener!

The booking process can take a few weeks as you decide on your Trip and Trip Package details and requires back and forth communication with our office staff.

We recommend booking your Backpacking, Basecamp, Mini-Backpacking and Rafting Trips between November and May. The earlier you sign up, the more flexibility we'll have to accommodate you, and the more availability there'll be for exactly what you're looking for.

As we get closer to the summer, options will dwindle and more importantly, our time will become limited to help with trip planning as we start to focus on the upcoming season. From May to Sept, our small office staff is busy with daily operations and existing trips, and so booking during this time frame is less than ideal and considered "last-minute". We are not able to offer Trip Package services for trips booked within 2 months of the start date, for example, and may be slower to respond during the summer months.

For Mountaineering Expeditions, we recommend booking between November and February so you have a solid plan and can have ample time to prepare your gear and train for the trip. Mountaineering expeditions should not be spontaneous, last-minute decisions as they are serious endeavors and we don't want to jeopardize the success or safety of the team by adding a participant who has not trained or mentally prepared for the challenges ahead. For this reason, we don't take last-minute reservations for our objective-based expeditions.

We want you to feel comfortable booking your adventures with us knowing that anything can happen between now and then. Check out our Multi-Day Trip Cancellation Policy.
Should I tip my guide? How Much?
Tipping is customary in the guiding industry and always appreciated. Our guides are paid professionals but tips make up a significant portion of their income and can go a long way toward making guiding a feasible long-term career choice. For our day trips, a good estimate is between 10% and 20% of the trip cost. So if you go on a day hike or climb with us, that would come to between $10 and $35 per person, depending on the trip and the percentage. As in any industry, your tip should be based on the service you feel you received. If you had the time of your life, the sky's the limit! You can tip your guides in cash, via Venmo or you can leave a gratuity on your card. If your trip includes a flight you should plan on tipping your pilot independently, any amount that you pre-tip will go to your guide directly. Thank you for considering this ahead of time!
FULL FAQ PAGE
SEAG is a very genuine welcoming crew, with your best interest at heart. I just returned from a 9 day mountaineering trip on a glacier. The care and personal attention by the staff created a lot of confidence that the trip was going to go well, and boy did it. This trip exceeded my expectations.
...
Ultrhd445 | 2020
Two years ago a couple of Delaware Flatlanders went on a trip with SEAG while Covid was raging, and we had an excellent time! So this year we decided to try actually climb a peak. Harrison, who was one the guides on the last trip would be our lead guide for this one. His confidence in our ability to climb Bona was key in our decision to go for it.
...
sschwarz1162 | 2022
I have been climbing mountains for about 12 years now and have utilized numerous guide services, all of which are high profile, well respected, professional operations. SEAG is by far the most outstanding of the bunch! The owners answered all email and phone inquiries in advance of the trip in a timely manner, professionally
...
AtlantaMoose | 2015
The absolute best part of the stay in McCarthy was the "cultural tour of the REAL Alaska" provided by two of the best guides and personable people I have ever had the pleasure to meet. From the moment I met them both until we said our goodbyes, they were the perfect hosts and guides
...
AtlantaMoose | 2015
Mountaineering can be an intimidating sport, so we suggest you start with the basics – join our Intro to Alaska Mountaineering course to learn the skills you need for a big Alaska expedition!
INTERESTED BUT
DON'T KNOW WHERE
TO START