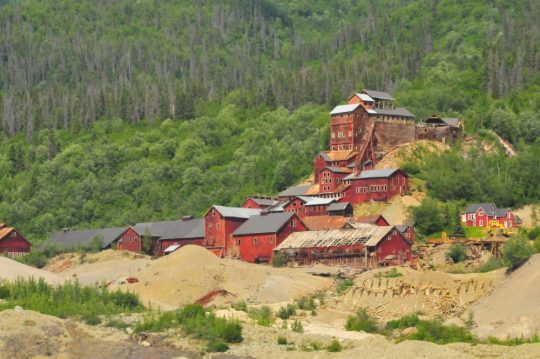 Planning a trip to Wrangell-St. Elias National Park & Preserve? There's a lot to learn about this corner of Alaska before you make your way. From the 60-mile gravel road to limited cell phone service, it's not uncommon for people to turn around before they even make it. Don't let poor planning get in your way of visiting this magnificent part of Alaska. The more you plan, the more prepared you'll be to have an incredible and successful trip. Sure unexpected surprises are a part of any vacation – and flat tires are not uncommon if you're driving in – but some surprises can be avoided. And we're here to help!
As the longest operating company in Kennecott-McCarthy, we've seen a lot (established in 1978, we've been around for over 40 years and counting!). So what should you know before you join us?
Let's start with one of the biggest surprises people face when they visit us – limited to no cell phone service. The only national cell service provider that reliably works in the Kennicott Valley is Verizon. Any other provider just doesn't work or you will have limited connectivity. Even with Verizon, there are sections of the McCarthy Road where you will lose service entirely. And, if you plan on venturing into the backcountry, you'll want to make sure you have an inReach or satellite phone. 
For those hoping to use WiFi to stay connected, you'll want to make sure your lodging offers it with your stay. Most lodging providers do have WiFi for their guests. However, there is no public WiFi in the area, so if you plan on camping and don't have Verizon service, you should be prepared to be completely disconnected!
Wondering about food? You might be surprised at the options available! In Kennecott, there is the Metza Wagon, the Kennicott Glacier Lodge, and there is also a small gift shop with snacks available. In McCarthy, there is The Potato, Salmon & Bear, and the Golden Saloon. If you're looking to make your own meals, it's best to arrive in the area with your own supplies. There is a small mercantile in the McCarthy Center where you can buy some items to supplement your meals.
There are no gear stores in Kennecott-McCarthy, so please come prepared with all of your own gear! The Gift Shop & Mercantile will have limited supplies like small toiletries, but no technical equipment.
So, now that you know a little bit more about how to prepare, let's discuss how you actually get here!
The infamous McCarthy Road is a 60-mile gravel road that starts at Chitina and ends at the Kennicott River (just outside of McCarthy). As of 2022, only 3 rental companies allow their vehicles to go down the McCarthy Road. It takes an average of 2-hours to travel the road depending on the conditions. It is not uncommon to get a flat tire, so make sure you are equipped with a spare. There may be a local who can repair your tire once you make it to the end of the road, but they are not always reliably available.
There is no outside vehicle traffic in the towns of Kennecott-McCarthy! Recently, Google Maps has been trying to direct people to the Private Vehicle Bridge that is available only to locals and businesses. Please ignore the instructions and stay straight on the McCarthy Road! If you stay straight it will dead end at the Pedestrian Footbridge that crosses over the Kennicott River. There is a campground at the end of the road where you can pay to park your car during your stay. To explore the area, simply walk across the Footbridge! Lodges will pick up their guests, we provide transportation for most of our tours (excluding the Kennecott Mill Town Tour), and there is a local shuttle, too. All of these pick-up at the Footbridge. You are also welcome to walk the ½ mile into McCarthy or the 5 miles to Kennecott.
McCarthy-Kennecott is a place like no other, and we hope you love it as much as we do! 
Have more questions? Check out these helpful links!
🏨 Local Lodging Options 🛏️
🚗 Transportation Information ✈️
📗 General Resources 📝
❓ Frequently Asked Questions 🙋