ROOT GLACIER OVERNIGHT
BACKPACKING TRIP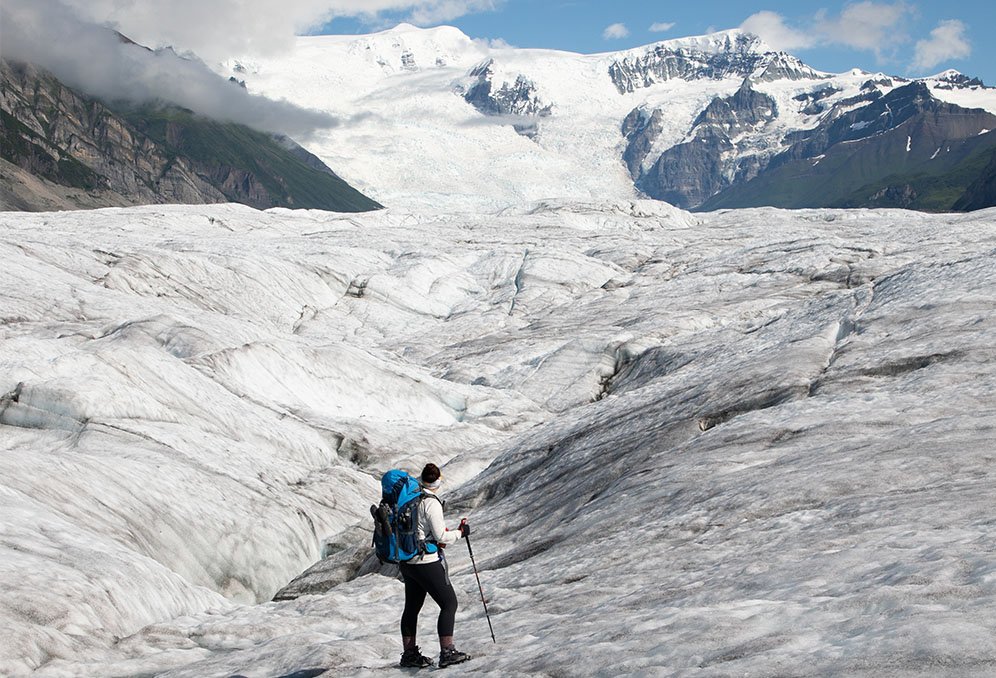 Best overnight trip in Alaska!
The majestic Kennicott Valley is a great introduction to hiking and backpacking in the Alaska backcountry. An extended version of our popular full-day glacier hikes, this overnight trip allows two full days to explore the glacier and its surroundings, as well as a night under the stars…or midnight sun, or northern lights, depending on the time of year!
If you want to get out and experience the grandeur of an Alaskan backpacking trip in the Wrangell-St. Elias National Park, but simply don't have time for a longer trip – or perhaps it's your first trip and you'd prefer a shorter outing – this overnight adventure is perfect for you!
Private Rates
Solo
$1,280
2 Participants
$755/person
3-8 Participants
$550/person
Total Mileage
 10-25mi
Total Elevation Gain/Loss
1,000-5,000

This trip is highly customizable, with many route options to choose from.)
ITINERARY
WHAT'S INCLUDED
LOGISTICS
FITNESS & EXPERIENCE EXPECTATIONS
ITINERARY
The "Alaska Factor"
There is a reason Alaska has such a rugged allure for the lower 48 and beyond: it is still wild! This raw and untamed landscape offers our clients the opportunity to authentically pioneer new territory and have real adventures. Part of embracing the "Alaska Factor" is understanding that things may not always go as planned and expecting the unexpected. Water levels might rise, snow might fall, glaciers may shift and move – the landscape is dynamic and unpredictable is what makes Alaska, Alaska!
All of our trips are customized as they unfold and your guide will fluidly make decisions based on weather, logistics, and group dynamics to maximize each day's experience. There can be quite a bit of variation, but on each trip we promise a big slice of the real Alaska and authentic adventure!
DAY 0
Your trip starts with Orientation and Gear Shakedown at our headquarters in the historic Motherlode Powerhouse in McCarthy, the night before your trip. You are in good hands as they review your itinerary, go over the menu, make sure that you are properly outfitted for the trip, and distribute/fit any group, rental and technical equipment needed. Your guide will reach out to you a week or two before your trip to coordinate this Orientation and will provide transportation within the McCarthy/Kennicott area as needed. Your guide will make sure to get you to your lodging that night and coordinate plans for tomorrow's pick-up.
DAY 1
Your guide will pick you up in the morning and after the short drive to Kennecott, we start out walking through the historic copper town of Kennecott, headed for the Root Glacier Trail. After a mile or so, the white ice of the Root Glacier will come into view, and soon enough, we'll be stopping to put on our crampons (which we'll supply) and get out on the ice!
Today, the itinerary is flexible and your guide will create a custom route for you based on your goals and abilities. The options are near endless as there's so much to see! You can cross the glacier to find the barely perceptible trail into Donoho Basin and watch migratory birds enjoy the serenity of a huge alpine lake; you may be trying to summit Mt. Donoho, and today is all about getting the approach out of the way and staging tomorrow's summit push; you might choose to head up-glacier and set up camp at Erie Lake for epic views of the Stairway Icefall up close.
Whatever you choose, you'll be seeing a lot of glacier along the way and be blown away by the unique and stunningly beautiful features of the ice! After a delicious dinner, it's time to cozy up in that sleeping bag and listen to the glacier rumble through the night.
DAY 2
After a tasty breakfast, you and your guide head out for another day of adventuring in Alaska's wild country. Which direction is totally up to you! Perhaps the ice has captured your intrigue and you'd like to see what's going on inside, or maybe you'd like to combine your love for history with a little climbing and check out the Erie Mine, perched up on the tall cliffs above the Root Glacier. Consider upgrading with our Ice Climbing Add-on and spend Day 2 exploring the vertical aspects of the ice!
No matter which adventure you choose for your final day, we'll return back to Kennecott on the Root Glacier Trail, aiming to get back to town in the late afternoon or early evening so you have plenty of time to shower before dinner.
ICE CLIMBING ADD-ON
For an additional fee, you may choose to spend one day (DAY 1 or 2) of the trip ice climbing on the Root Glacier! You'll be fitted for gear before heading out backpacking and your gear will meet you at your final camp the morning of your climbing day! Let us know if you have any questions about our Ice Climbing Add-on!
WHAT'S INCLUDED
LOGISTICS
FITNESS & EXPERIENCE EXPECTATIONS
Felt in the best of hands with St Elias Alpine Guides, who made a Root Glacier overnight trip happen for me on such short notice! Felt like a perfect "level of adventure" for me to learn and push myself, but also still fully nerd out at the surreal sights (camera and all). Thanks Eli
...
Lauren Fan | 2022
100% - thank you Anya for the specific suggestions on air/ground transportation and McCarthy lodging, really instrumental in piecing it all together last minute!
Lauren Fan | 2022
Glacier views at camp and seeing the ice cave + glacial blue in any form were pretty surreal! The glacier water tasted so good!
Lauren Fan | 2022
I feel so lucky to have had Eli as a guide! Easy to get along with and super patient both in teaching me things (initial packing, setting up camp, crampons, mountain names and biology around the glacier, etc.) and whenever I slowed to take pictures or a water break. He really carried our team
...
Lauren Fan | 2022
Wrangell – St. Elias National Park is home to both black bears and grizzly bears and we are honored to share our home with such majestic animals. We treat the bears with respect and do our best to maintain their wild environment and nature. The bears out here are truly very wild and have very little contact with humans – this means that they are naturally afraid of us! Yes, even grizzlies! Bears do not hunt humans and our most common bear sighting is of a bear's butt as they run away.

Although bear sightings may be exciting, we do our best to avoid close encounters with preventative measures at camp and while hiking that our guides will share with you. Just in case of unusually close encounters, our guides carry flare guns (to scare a bear away) and pepper spray (in case of an uncomfortably close meeting). It is very uncommon to have to use either.

If you want to, you can bring your own bear spray too, however, know that your guide has one and has been trained on how to use it. With 40 years of guiding in the Park, we have found that being bear aware, taking preventative measures and the flare gun and pepper spray to be sufficient mitigations.

Please refrain from bringing firearms with you on our trips. Not only does this make our other guests and guides uncomfortable, but they are also completely unnecessary for bear safety. We know that other areas of Alaska may recommend firearms for bear safety, but we specifically recommend against them.
Where do we go to the bathroom in the backcountry?
This is one of the most commonly asked questions!

We practice Leave No Trace principles and make sure to minimize our impact on the natural landscape as much as possible.

In Wrangell-St. Elias National Park, the recommended practice for backpackers is to either individually dig small holes (your guide will carry a small trowel) to use as a personal latrine per-use or choose a place near camp but with some privacy and dig a trench for use as a group latrine, depending on the location. You will carry out all your used toilet paper and all other sanitary products and trash.

On rafting trips, we carry a plastic toilet box with a seat that is set up near camp and your guides will carry out all waste on the boats.

On mountaineering trips, the latrine is commonly a crevasse or snow-pit protected from camp by a wall of snow.

Your guides will instruct you on the particulars of the situation per camp to set you up for success and all possible comfort. Please don't be shy to ask them questions on this matter. It's a necessity that has been given lots of thought your guides are experts in ALL things outdoors!
Who will my Multi-Day Trip Guide be?
Our wilderness trip guides are the best of the best! They have worked for us as day guides for at least one full season, have extensive experience in the backcountry, advanced wilderness medical training, a good head on their shoulders, and are also fun and personable people to spend a few days or a few weeks with. They love what they do and want to make sure you have the best experience possible. Our guides come in many shapes and sizes and from many different backgrounds – you can get to know them here. We assign guides to individual trips 2-4 weeks prior to the trip and do our best to match their personalities to yours and your group's. Your guide plans to contact you 1-2 weeks before the trip to introduce themselves and answer any last minute questions you might have.* Our schedule is as dynamic as our environment and we apologize if this doesn't happen or isn't as timely due to busy schedules and/or last-minute scheduling additions and changes.

*Our Mountaineering Guides get assigned several months in advance and will be contacting you 2 months before the expedition to make introductions and answer any last minute questions.
FULL FAQ PAGE
Want to book a Private Trip or not sure if this is the right trip for you? Schedule a call with our Expedition Coordinator at a time that works well for you. She'll help you narrow down which trip is best for you and answer any questions you have about our trips, the local area or surrounding logistics.
GET IN TOUCH
WITH AN EXPEDITION
COORDINATOR!