— Mt. Blackburn Expedition —
The Details
Group Rate: $7,695/person
for 4 or more participants
Trip Length: 13 Days
Difficulty: For the Fit and Experienced
Dates: May 10-21, 2021
The King of the Wrangells!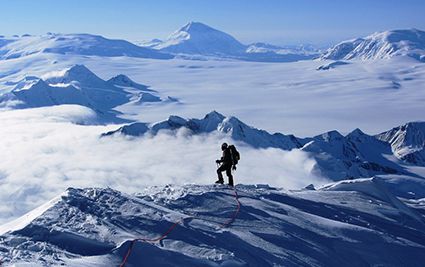 With tremendous vertical relief (11,000 ft in some places) Mt. Blackburn is the tallest peak in the Wrangells and the 50th most topographically prominent peak in the world. The true summit was reached in 1958 and since then, less than 50 parties have climbed the mountain. A true wilderness climb, the route ascends the Northwest ridge with over 7,500 vertical feet (2,286 m) of climbing.
The route overlooks the Nabesna Glacier, the longest valley glacier in North America at 75 miles (120 km) long! Throughout the climb you'll encounter steep snow and ice, cornices, crevasses, ice falls, stunning alpenglow, and the rarified air of big peaks.
Participants should be fit and have some mountaineering experience. Contact us for schedule – or to inquire about the new route/variation that we've had our eye on…
Trip Highlights:
Become one of the few to summit the highest peak in the Wrangells.
Spectacular views of rugged Wrangell-St. Elias National Park.
Challenging climbing on a remote, Alaskan peak.
Learn new techniques from experienced Alaska mountain guides.
"A fantastic experience — wild Alaska at its best!"
Click on the markers below to view important points along your trip. Check out that zoom feature!
— Trip Finder —
Choose your trip by adventure type, length of stay and travel month