MT. BLACKBURN
MOUNTAINEERING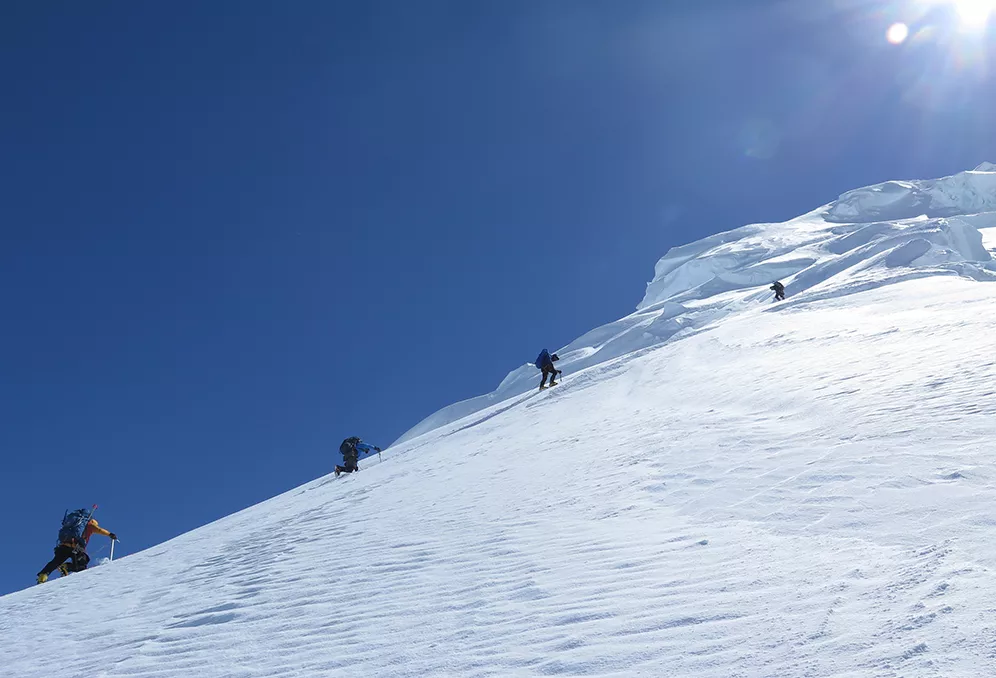 Climb the king of the Wrangells
Towering over the Wrangell Mountains in Alaska with irresistible allure, Mt. Blackburn (16,390ft) is the tallest peak in the remote Wrangell Mountain range and the 5th tallest peak in the US!
Since the true summit was reached in 1958, less than 50 parties have climbed the mountain. The wild nature of the route challenges climbers with exposure, steep snow and ice, wicked storms, over 8,000 vertical feet of climbing, and extended pushes with limited space for camping on the high, thin, and exposed ridge.
A feat of epic proportions, a successful ascent rewards climbers with some of the longest views in the state and the serious bragging rights at having tackled this untamed heavyweight of Alaska big-mountain climbing.
Total Elevation Gain/Loss
8,000′
Difficulty
Alaska Grade 2+
Rates:
Private Solo
$20,750
Private 2 Participants
$12,795/person
Private 3-4 Participants
$9,960/person
5-6 Participants/Group
$7,645/person
Dates:
Private Trips with custom dates may be available. Schedule a call with our Expedition Coordinator to plan your Private Trip today!
ITINERARY
WHAT'S INCLUDED
LOGISTICS
FITNESS & EXPERIENCE EXPECTATIONS
ITINERARY
The following is a sample itinerary for our Mt. Blackburn Alaska Mountaineering trip. Due to individual abilities and goals, as well as the strong environment swings of Alaska, all of our trips are customized as they unfold. Your guide will fluidly make decisions based on weather, conditions, logistics, safety, and group dynamics to maximize each day's experience. There can be quite a bit of variation, but we always strive to make every trip your best ever!
DAY 0
Arrive in Anchorage and spend the night. (You will arrange this part)
DAY 1
Our van picks you up in Anchorage and drives you 8hrs East to McCarthy. Meet your guides and enjoy dinner together. Complimentary lodging in the rustic bunkrooms of our historic Powerhouse building. (Upgrades to flights or more comfortable accommodations may be available.)
DAY 2
This day is devoted to packing, planning and training in our indoor facilities. This is the time to go over all your gear with your guide and do some last minute training on crevasse rescue and other skills.
DAY 3-13
Fly out directly North, passing over the striated Kennicott Glacier and the endless icefalls making up the skyline. Landing at about 7,000' on the Nabesna Icefield, you'll set up your basecamp and make your plan to start the ascent tomorrow.
Navigating up a crevasse-ridden glacier, you'll gain the NW ridge of Mt. Blackburn at 9,800′ and set up the Ridge Camp there. The next section of climbing to 13,000′ is heavily featured and ever-changing as ferocious winds carve away at the ridge of the vast massif. Requiring steep snow climbing with exposure, this is the most technically challenging portion of the climb! You'll make an intermediary camp in this zone before reaching your highest camp at 13,500′. The summit is still 3,000′ and 2mi away, but the terrain here is the easiest so far, gentle slopes to the top! This summit push requires a lot of energy and a solid weather window as you are quite exposed, so extra days are built-in for weather, acclimatization, and rest.
Reverse the route for the descent and make your way back to your basecamp.
DAY 14
Today you'll pack up your gear and get ready to fly back to McCarthy, passing over the shoulder of the mountain giant you were just standing on top of! Enjoy a hot sauna and a cold beverage before tucking into bed up in the bunkrooms again. (Let us know if you're interested in upgrading to more comfortable lodging.)
DAY 15
Load into the van in the morning and begin the drive back to Anchorage. We recommend planning to spend this night in Anchorage before flying home the next morning – this gives you a buffer in your itinerary for any unexpected delays. (Let us know if you're interested in upgrading to a bush flight from McCarthy to Anchorage.)
WHAT'S INCLUDED
LOGISTICS
FITNESS & EXPERIENCE EXPECTATIONS
We had an amazing time in Wrangell-St. Elias National Park thanks to St. Elias Alpine Guides! They were professional, well-organized and friendly and made our trip a very fun and memorable experience . We enjoyed ice climbing, exploring ice caves, touring the abandoned copper mill, and an airplane trip to the backcountry with Wrangell Mountain
...
327veronikal | 2021
Want to book a Private Trip or not sure if this is the right trip for you? Schedule a call with our Expedition Coordinator at a time that works well for you. She'll help you narrow down which trip is best for you and answer any questions you have about our trips, the local area or surrounding logistics.
GET IN TOUCH
WITH AN EXPEDITION
COORDINATOR!
What does the Alaska Grade rating system mean?
A unique grading system to help decipher the remote, cold, stormy nature of Alaskan climbing. It is important to remember that even Grade 1 may involve climbing on snow and glaciers in remote locations and cold weather.

Grade 1 - Single day, easy glacier route
Objectives up to 8-11,000' with prominence of up to 3000'
Intro to Mountaineering Course, Chugach Backcountry Ski Basecamp


Grade 2 - Long day or multi-day, non-technical, but exposed to knife-edged ridges, weather, and high-altitude
Mt. Bear, Mt. Sanford, Mt. Bona

Grade 2+ (the + signfies increased technicality)
Mt. Blackburn, Mt. Steller

Grade 3 - Multi-day hard to difficult, with sustained technical climbing
University Peak

Grade 5 - Multiday sustained hard climbing over several thousand vertical feet requiring high commitment
Mt. St. Elias
What is a climbing resume and why do you need one from me?
Some of our mountaineering and ski expeditions, especially the objective-based trips, require participants to submit a climbing resume. A climbing resume lists out your relevant outdoor and climbing experience. We use these to get to know you a little better and to make sure you are signing up on a trip of an appropriate level for everyone's safety and enjoyment.

This does not have to be a formal document with fancy letterhead, there is no particular format to follow and as long as the info is there, you can email this to us at any time. You can include mountaineering expeditions, rock climbs, ice climbs, alpine climbs, scrambles, and traverses – you can definitely include attempts that didn't quite make it, but please make that clear in your notes and why. The important details to include about each outing are the name of the area or mountain, the route name, the difficulty rating, the month and year you did it, and your role on the team (was it a solo attempt, where you guided by a professional, were you guiding a group of friends?). You may choose to include other details about your climbs like the distance or elevation gained, how the climb felt to you (was it super easy or were you at your limit?), or anything remarkable that happened during the outing. It can also be helpful to know a little about your general fitness and outdoor experience so you can include information on your workout habits or other relevant athletic feats (extended backpacking trips you've been on or how many miles you run a week, for example).

We will review your resume and may have follow-up questions and from there we'll be able to advise you as to which expedition is best for you!
Do I have to carry my own gear?
Likely, at some point or another, at least a little bit, yes.

On a Rafting Trip, you can help the guides unload the boats, set up camp, and carry your dry bag(s) to your tent nearby. After breakfast, you can help take down camp and load up the boats.

On a Basecamp Hiking Trip, you will need to carry your gear about 5-20min from the backcountry airstrip to set up camp at the beginning of the trip and then pack up and carry it back to the airstrip at the end. Throughout the trip you will hike with a small day pack – this is usually 5-15lbs.

On a Basecamp mini-Backpacking Trip you will need to carry all your gear between the airstrip and your camp, which will be 1-3mi away. This means at least 2 one-way trips with the big backpack (usually 30-40lbs). After setting up camp you will enjoy day-hikes with a much lighter day pack (usually 5-15lbs).

On a Backpacking Trip, you will move camp almost every night and will need to carry everything you need with you. For a trip up to 4 days in length, you can expect packs in the 35-45lb range and for trips in the 6-8 day range, please be prepared for weights closer to 45-50lbs. The burly gear that is required for the Alaskan backcountry isn't very light so forget "ultralite" and think heavy-duty!
For all Basecamping and Backpacking Trips, the pack weight will really depend on what you bring, so we do recommend having a minimalist mindset. In addition to your own gear, we will be giving you a bear canister full of food and supplies, potentially another item like a fuel canister or a stove, and maybe a part of a tent if you're not bringing your own (we recommend sharing tents to save weight). Your guides are weight-conscious packers and will never burden you unnecessarily. It's likely that over the course of the trip you'll be able to start adding your own things into the bear canister and your pack should get lighter as you eat your food and use supplies.
If you would really like to do a Point-to-Point Backpacking Trip but are concerned about the pack weight, we also offer Porter services. Porters cannot take your entire pack for you, but they can help alleviate your pack weight significantly and offer other assistance as an assistant guide on the trip.

On our objective-based Mountaineering Expeditions, you will be required to carry all your own gear and some group gear between camps. Depending on the terrain, you may bring sleds with you for all or some of the route. Depending on the route, you may do stretches of the route multiple times, caching gear as you go, so you may not always have the full weight of all your equipment with you at all times. At maximum, you can expect weights of 80-160lbs to be split between a backpack and a sled and at minimum a 30lb bag for single-day excursions.
FULL FAQ PAGE