— Mt. Blackburn Expedition —
The Details
Group Rate: $4,400/person
Trip Length: 12 Days Climbing, 17 Days in Alaska
Difficulty: Alaska Grade 2+
Dates: April 29- May 10, 2022
Climb the Tallest Peak in the Wrangell Mountains!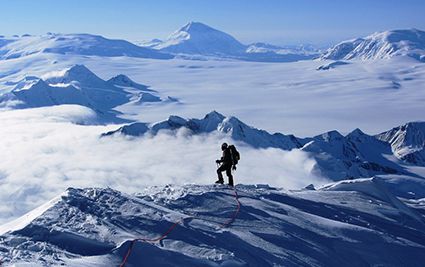 Standing proud as the apex of the Wrangell Mountain Range, the beauty of Mt Blackburn has an almost irresistible allure. Visible from the town of McCarthy and the architect of the mighty 27-mile long Kennicott Glacier, the 16,390ft Alaskan jewel is as appealing as it is perilous. Since first climbed by the legendary mountaineering pioneer Dora Keen in 1912, claiming one of its less than 50 total successful summits is a notable achievement! With over 7,500 vertical feet of climbing on the 50th most topographically prominent peak in the world, you are sure to encounter everything you could dream of in a true mountain wilderness expedition. Due to Mt. Blackburn's exposure, vertical relief, (almost) guaranteed arctic storms, and portions of technical climbing, previous mountaineering experience is required – Please contact us if you started to smile while you read this!
Trip Highlights:
A truly challenging climb with no footsteps to follow, fixed ropes, other climbers to rely on, or a guaranteed summit
Learn strategies used to make important decisions in the mountains from our experienced and professional guides
Test your physical and mental endurance for a once in a lifetime achievement
Enjoy the beauty and unique scenery of the true Alaskan backcountry
"A fantastic experience — wild Alaska at its best!"
Click on the markers below to view important points along your trip. Check out that zoom feature!
— Trip Finder —
Choose your trip by adventure type, length of stay and travel month