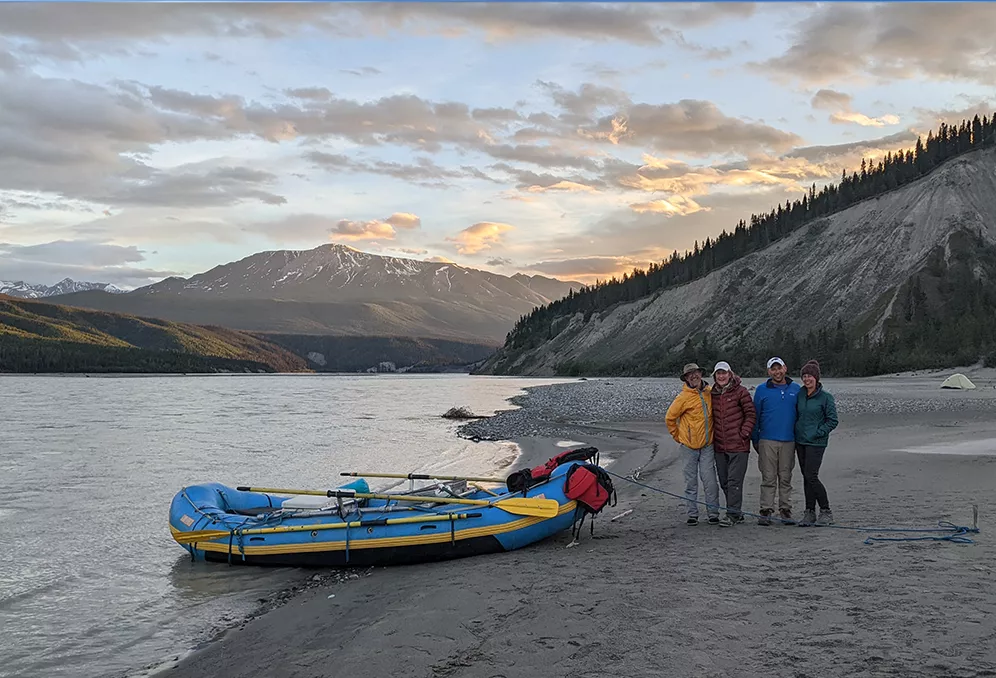 The perfect Alaska rafting trip for all abilities
Start right in McCarthy, launching on the Kennicott River just below the terminus of the great Kennicott Glacier. Float the historic passageway through the Wrangell Mountains all the way to the town of Chitina.
Splashy class II-III rapids give way to expansive views of the forested backcountry and possible wildlife sightings. Covering more miles than you ever could on foot, this trip takes you down three iconic Alaskan rivers – the Kennicott, the Nizina and the Chitina.
Scenic float through the wilderness with chances of wildlife sightings

Great for beginner campers and families with kids

Short and sweet, perfect weekend trip

Easy logistics make for affordable travel

Explore McCarthy/Kennecott and float back to Chitina
Rates
2 Participants
$2,050/person
3 Participants
$1,450/person
4-6 Participants
$1,000/person
7-12 Participants 
$950/person
Group Trip Rates are determined by the of participants.
Group Trip Dates
June 29 – July 1, 2024
July 18-20, 2024
Aug 23-25, 2024
Private Trips with custom dates are available. Schedule a call with our Expedition Coordinator to plan your Private Trip today!
ITINERARY
WHAT'S INCLUDED
LOGISTICS
FITNESS & EXPERIENCE
ITINERARY
The "Alaska Factor"
There is a reason Alaska has such a rugged allure for the lower 48 and beyond: it is still wild! This raw and untamed landscape offers our clients the opportunity to authentically pioneer new territory and have real adventures. Part of embracing the "Alaska Factor" is understanding that things may not always go as planned and expecting the unexpected. Water levels might rise, snow might fall, glaciers may shift and move – the landscape is dynamic and unpredictable is what makes Alaska, Alaska!
All of our trips are customized as they unfold and your guide will fluidly make decisions based on weather,  logistics, and group dynamics to maximize each day's experience. There can be quite a bit of variation, but on each trip we promise a big slice of the real Alaska and authentic adventure!
DAY 0
Meet your guide in McCarthy the day before your trip for Orientation and Gear Shakedown. After making sure you are totally prepared for the adventure ahead, your guide will make sure to get you to your lodging that night and coordinate plans for tomorrow's pick-up.
DAY 1
Your guides will pick you up early in the afternoon and take you to the put-in on the Kennicott River, just below the terminal lake of the Kennicott Glacier. After a safety talk and a double check of everyone's gear, you're ready to float! Off to an energetic start you'll splash along the Kennicott with views of the mile-high Stairway Icefall disappearing behind the forrested mountains around you.


You'll join the icy Nizina River and begin the tightest constriction of this river – the Nizina Canyon. Steep walls rise out of the water around you swing you around bend after bend, catching wave trains and hitting the biggest rapids of the trip! Making camp at a beautiful island gravel bar, watch reruns of your awesome float all night in your dreams!
DAY 2
Wake up to the smell of a delicious breakfast being prepared by your guides. Today you will cover a lot of ground, navigating the weaving channels of this braided, glacial river. Keep your camera ready for a moose, bear or eagle sighting on the high banks of the oxebow turns of the Chitina.

You'll make a few stops for a fresh deli lunch and a couple short hikes throughout the day, before choosing the perfect place to set up camp for the night. Play games, read your book or explore around camp as your guides prepare another fabulous dinner and an even better dessert!
DAY 3
A morning meditation with a freshly brewed cup of coffee in the solitude of the wilderness while someone else makes you breakfast – what bliss?! Packing up camp for the last time, you'll hop on the boats to float the final miles of the Chitina River before it flows into the Copper River. In the afternoon, you'll take out just outside the town of Chitina, enjoy one last lunch together, and begin the process of re-entry into the "civilized" world.
WHAT'S INCLUDED
LOGISTICS
FITNESS & EXPERIENCE
The Chitna River trip exceeded our expectations for first time river-rafting campers. The food was amazing and was pleasantly surprised at the variety provided, as well as that they brought beer/wine to have with dinner. Guides were very knowledgable and passionate about the area and seemed genuinely excited to be on the trip
...
Andrea Beanan | 2022
The whole thing was great - it was great for me to be on the river for 70 miles and not go under a bridge with beautiful scenery everywhere. Good group of people as well!
Matt Breunig | 2022
Want to book a Private Trip or not sure if this is the right trip for you? Schedule a call with our Expedition Coordinator at a time that works well for you. She'll help you narrow down which trip is best for you and answer any questions you have about our trips, the local area or surrounding logistics.
GET IN TOUCH
WITH AN EXPEDITION
COORDINATOR!
What type of Multi-Day adventure is right for me?
On Basecamp Trips we fly out into the wilderness and set up camp near the airstrip. From here we explore the area on a series of day hikes with lighter packs or paddles and return to the same camp every night.
Basecamp Trips are recommended for beginner campers, families with younger children, and those with injuries that may prevent them from carrying a heavy pack. We also recommend these trips for those looking for a more relaxing experience, though please note that all the terrain in the Wrangells is quite rugged so some level of athleticism is always required to get around the wilderness.
On Mini-Backpacking Trips we fly to a backcountry destination and strap on our heavy backpacks, taking a short hike to set up our first camp. Over several days, we will explore different areas on day-hikes, moving camp at least once again.
Mini-Backpacking Trips are perfect for those newer to camping and backpacking or those looking for a less physically strenuous backpacking experience in rugged Alaska. Great for kids 12 and up!
On Point-to-Point Backpacking Trips we take 4-8 days to get from backcountry destination A to backcountry destination B, moving camp every night, being completely self-sufficient, and carrying all our gear on our backs.
Our Backpacking Trips are different in difficulty as well as terrain and scenery and each presents a unique series of challenges. Alaska requires more and burlier gear which means heavier packs and the terrain and weather can be relentless – do not underestimate the challenges a trail-less wilderness presents! We do not offer any "easy" backpacking trips and do not recommend these trips for first-time or beginner backpackers.
On Rafting Trips we usually spend 2-6hrs on the river every day, stopping for lunch and short, scenic hikes before making a camp in the wilderness. Our rafting trips are scenic floats, allowing access to otherwise unattainable views and covering more miles than you ever could on foot, with some class II-III rapids in between. Rafting trips allow a slightly more "luxurious" wilderness experience than backpacking or basecamp hiking – easier on the legs, a more casual daily schedule with more time at camp, no backpack burden, more elaborate meals with fresher ingredients, etc.
We raft a few different rivers in the Wrangells and each has unique scenery and logistics, some involving bush flights and some ending way out on the coast! We recommend our rafting trips to anyone looking for a wilderness experience at a very comfortable pace, those wanting to spend quality time with their group, or those hoping to relax while still seeing a lot. Kids ages 8+ are welcome.
On Mountaineering Expeditions we access remote big-mountain terrain, usually landing on ski planes to climb and ski some of the tallest peaks in Alaska's endless mountain kingdom! We offer small-group objective-based expeditions where the goal is to safely summit and descend a remote peak, play-style expeditions where we set up a basecamp to access some shorter but epic lines, and technical courses where the goal is to learn and practice mountaineering techniques and skills (see below). We climb and ski in a wilderness style – there are no fixed lines, no sherpas, no busy basecamp scenes and established camps, no weather stations, and usually no one on the mountain except our team. This is a different style of climbing and takes strong mental and physical fortitude as teams must be completely self-sustained. All mountaineering trips include Trip Packages with transportation and lodging logistics included (Anchorage to Anchorage).
Our mountaineering expeditions are recommended for those looking to access some of the most remote and wild mountain terrain on the planet. Each trip has a difficulty level, requires vetting and a mountaineering resume. Some trips require guide references.
On Technical Courses the goal is to learn technical skills and put them into practice on Alaska's unique glaciated terrain. Our courses vary in length and can be highly customizable
Technical Courses are recommended for those wanting to focus on skill-building and excited to learn in an incredible outdoor classroom. All skill levels are welcome. We are not affiliated with any learning institution and these courses do not provide any type of certification. That said, we hope that what we teach you and your experience is memorable and transforms your mountain confidence and abilities!
What will we eat in the backcountry?
We pride ourselves on cooking healthy and delicious meals even under the most adverse conditions! Your exact menu will depend on the trip, your guide, and the dietary preferences/restrictions you list in your Trip Application. No matter what kind of cook your guide is at home, all our guides are well-trained backcountry chefs and use time-tested recipes from our proprietary cookbook for their trips. We carry a plentiful and varied stock of ingredients and most meals are prepared from scratch (allowing for easy substitutions, additions or subtractions of ingredients). We onlyt use pre-packed freeze-dried meals on summit pushes on our mountaineering expeditions.

On our backpacking and basecamp trips, you can expect 3 meals a day, plus snacks of your choice. Breakfasts and dinners are usually hot meals and lunches are served cold. On mountaineering trips lunches consist of a variety of snacks as it can be hard to organize group meals while on a rope team.
We use a combination of fresh, dehydrated, and freeze-dried ingredients to make our delicious meals, however on longer backpacking and mountaineering trips your guides will use more freeze-dried foods than fresh foods to keep pack weights as low as possible. On our rafting trips, we cook full multi-course meals with fresh ingredients and enjoy hot and cold breakfasts, cold lunches and hot dinners.

Meals for most trips start with Lunch on the first day and end with Lunch on the last day. *

*If you are signed up for a Custom Trip Package with us, it may include more meals. Check with us if you're not sure. Mountaineering trips also include meals in McCarthy before and after the backcountry expedition.
Where can I store my luggage while I'm in the backcountry?
We understand that you may have luggage or things you don't want to bring into the backcountry with you so we have a designated area at our headquarters where your guide will label and store your stuff while you're out. This area is not locked, however, we have never had any issues with loss or damage. If you have a small item of great value that you are particularly nervous about, we may be able to store it in our office for you – just ask your guide.

On the Chitina River, Copper River, Source to Sea, or Custom Trips with different start and end points, any luggage you leave behind with us will be brought out to meet you at the end of the trip.
FULL FAQ PAGE