TWO-DAY ADVENTURE
PACKAGE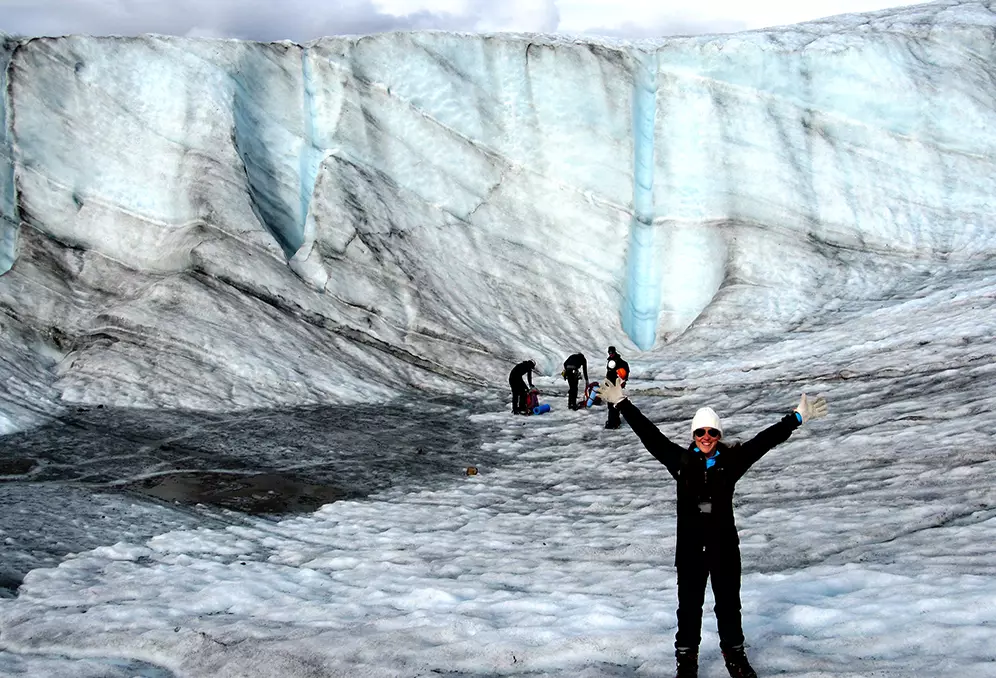 Experience all that Alaska has to offer in just two days!
Our Two-Day Adventure Package combines our three most popular day activities at a discounted price. Do a Half-Day Glacier Hike along with our Raft & Flightsee day trip and get the Kennecott Town Tour for free!
Hike on one of the most beautiful glaciers in Alaska, where you'll see blue pools, canyons, crevasses, and moulins. For more details on this hike, go to our Half-Day Glacier Hike page. End your day by exploring the old mining town of Kennecott with a highly trained interpretive guide who will bring the history to light as well as explain details of the fascinating mining process from the early 20th century. For more details about this tour, go to our Kennecott Mill Town Tour page.
Raft down the surging and fast Class II Kennicott River, enjoy a multi-course lunch on a riverside gravel bar, and wind your way through the spectacular Class III Nizina Canyon all before being picked up by a bush plane for a breath-taking flight home over the rivers and glaciers of the Kennicott Valley. For more details, go to our Raft & Flightsee page.
The order in which you do your activities will vary depending on the flight services availability. If you have a preference, please let us know and we will try to accommodate it!
ADVANCED RESERVATIONS REQUIRED!
Price
Adult(13+) $510
Child(12-) $440
Dates Offered
Daily from June 15th – September 1st
Age Limit
Must be age 8 or older for rafting
Group Size
Limited availability – maximum 12 guests to 2 guides for rafting
Experience everything Alaska has to offer in just two days!

Hike on the incredible Root Glacier

Raft down glacially-fed rivers and see unique geography

Explore the historic townsite of Kennecott, Alaska

Fly in a bush plane for incredible aerial views!
Experienced and knowledgeable guide

Rafting – Neoprene top, rain boots, and a PFD

(personal floatation device)

Glacier Hike – Crampons

Roundtrip transportation!

 
(Pick-up time and location vary depending on your 
lodging location. Please reference your confirmation for specific details.)
Personal gear (see equipment list)
Once you book your trip, you'll receive a confirmation with all the information you need!
Come prepared with the following for Glacier Hiking:
Rain Gear –

Both jacket and pants!

Extra Layers –

Warm sweater and/or jacket

Hat and Light Gloves –

Gloves are used to protect your hands from the jagged ice!

Sunglasses and Sunscreen

– 

The reflective nature of the glacier makes these an absolute necessity!

Hiking Boots or Other Sturdy Walking Shoes
Lunch, Snacks, and a Water Bottle
Camera/Phone to Take Pictures!
Backpack –

Please make sure it is big enough to carry your extra layers, lunch, water, and the crampons we lend you
Come prepared with the following for Rafting: 
Rain Gear – both jacket and pants!
Warm Layers – NO COTTON!
Warm Hat and Sun Hat
Sunglasses and Sunscreen
Rain/Rubber Boots – 

We do have loaner boots available if needed. The shoes you arrive in will 

be stored in a waterproof bag if they are not waterproof.

Water Bottle – lunch is provided!
Camera/Phone to Take Pictures!
What is a blue pool and can I jump into it?
Absolutely! We recommend joining us for a Full-Day Glacier Hike if you'd like to jump into a Blue Pool, as the pools are not always accessible on a Half-Day Glacier Hike. If you're interested in jumping into a Blue Pool, you may want to bring a bathing suit, change of clothes, and towel. But don't worry, if you forget a suit or change of clothes, you can always jump in the buff!

Wondering what a Blue Pool is? It's an area on a glacier where water collects. The water in the pool emits a beautiful turquoise color! These pools can often be very deep – perfect for diving into or doing a big old-fashioned cannonball!
Should I bring trekking poles on my glacier hike?
We do not recommend trekking poles for the glacier portion of your trek. Trekking poles can be helpful for the 2-mile hike to the glacier, but are not required or necessary for all hikers. If you decide to bring trekking poles with you for your trek, please make sure they can easily break down so that you can store them on/in your pack while exploring the glacier.
Should I tip my guide? How Much?
Tipping is customary in the guiding industry and always appreciated. Our guides are paid professionals but tips make up a significant portion of their income and can go a long way toward making guiding a feasible long-term career choice. For our day trips, a good estimate is between 10% and 20% of the trip cost. So if you go on a day hike or climb with us, that would come to between $10 and $35 per person, depending on the trip and the percentage. As in any industry, your tip should be based on the service you feel you received. If you had the time of your life, the sky's the limit! You can tip your guides in cash, via Venmo or you can leave a gratuity on your card. If your trip includes a flight you should plan on tipping your pilot independently, any amount that you pre-tip will go to your guide directly. Thank you for considering this ahead of time!
FULL FAQ PAGE
We did the half day glacier hike, and had an exceptional experience! We are hikers, but have not done anything like this before, and our guide, Dan, was fabulous! We had a range of ages, abilities, and experience in our group, and he was incredibly patient and kind with everyone. He's very knowledgeable about
...
alltravellvr | 2022
The trip is one of the best kept secrets in the US; totally awesome river; great scenery even on a cloudy day; wonderful guides; the flight back over the river canyon we just rafted is a great way to end a wonderful trip.
Andrew Fylypovych | 2022
Can't say enough good things about St Elias Alpine guides. On tour with Odyssey, we had Kelly, Patrick and Ryan guide us on the glacier hike and Patrick and Ryan the following day for the mill tour. I spent more time with Patrick and Kelly and the two were fabulous. Extremely knowledgeable, personable, helpful
...
bethmB5199ZM | 2022
Great time on the 1/2 day glacier hike! Our guides, Kelly and Dan, picked us up right on time and immediately made us feel welcome and comfortable. Not only were they great guides, highlighting and explaining numerous things about the area and the glacier, but they also did a great job keeping our
...
jameyyawn | 2022
The root glacier tour was the highlight of our Alaska trip! Especially loved getting to jump into one of the blue pools for a quick polar plunge. Our guide, Jeff, was super knowledgeable about glaciers and the plants / animals in the area and we learned a lot during the trek. 10/10 highly recommend
michellehD9628NK | 2022
Glacier hiking in in this amazing national park has been on our bucket list and having Kelly H and Kelly K as our guides really fulfilled our expectations. They were so great with our 13yo twin girls and 11yo son, helping them with the crampons and keeping them safe on the Root Glacier. Kelly
...
ericwng | 2022
We really enjoyed our Nizina Canyon Raft and flightseeing trip. Everything was provided for us, explanations were clear, and the trip was fun and full of adventure. The guides even set up a table, prepared lunch and had chairs for us to sit in. Highly recommend this adventure.
Carl and Linda Reed | 2022
We took the half-day Root Glacier hike with Sierra as our guide in late August 2021. There is a two-mile hike from Kennecott before you step onto the Root Glacier, so be prepared for some up and down rocky terrain as you enter and leave the glacier. Sierra was very helpful in getting us
...
Jennifer N | 2021
Best day in Alaska! Glacier hike was amazing. David, our guide, made the trip fun, safe, informative....Just a perfect day. If you are going to do a glacier hike in Alaska...do it here. We were so happy we chose this place as it was clearly the most impressive glacier we saw accessible to hiking.
...
JordanKris | 2021
Great family experience. We had our 6 year old with us and I was worried that we would be too slow or it would be too hard. But, it was great. Our tour guide was Alec and its clear they put together our small group with care as we were paired with another couple
...
samthebeachdog | 2021
We did the half day glacier tour. In a word - amazing. We had no idea what a glacier was like. A lot more than ice, that's for sure. Our guide (Kate) was informative and moved exactly at our pace. Took lots of pictures; so many different views!
therchline | 2021
We did the half day glacier hike and it was amazing, It really is pretty much a full day experience. We were picked up at the footbridge at 8:30am and returned around 3pm. The hike to the glacier is pleasant and the time on the glacier was amazing. I thought we were just
...
PassionfortheParks | 2021
Take the time to do this tour! We decided while at Kennecott to do the mine tour. My family loved learning all about the mines, how they were operated and life living at Kennecott. Jeremiah, our tour guide, was so knowledgeable and fun. Definitely worth doing while visiting.
David Hamilton | 2022
A worthy Investment! We took the Kennecott Mill Town tour and had a great time. Both my husband and I have geology backgrounds and are familiar with historical mining locations and processes, so we are able to confirm our guide was not only knowledgeable in general but provided wonderful, specific information about the mines
...
Carry-on-Cat | 2021
We did the Mill Tour, and were absolutely blown away at the history and innovation used within the construction of the mill! The building was interesting enough from the outside, but going inside is an absolute must as part of your Kennicott experience.
transientraveler119 | 2021
The Kennecott Mill Tour was a lot more than I had expected---in a good way! Our guide shared many many details of the mines and the mill. You hike to the top of the mill, and then enter the cavernous, old (but structurally sound, thanks NPS!) mill. Each floor is detailed and explained. There
...
like_national_parks | 2021
If you're visiting Alaska, you need to get over to Kennecott/Kennicott and do this tour! Dan was an amazing guide. He was so funny and taught us so much about this area, the mill, the people, and more. You will not be able to take a tour like this in any other US
...
David H | 2022
We really enjoyed the Kennicott Mill tour with Gabe. It's not your average historic tour - be prepared for a little hiking and incline to get to the top of the 14 story mill. We learned so much and it was such a unique place and experience. A must see if you're in the area
michellehD9628NK | 2022
Take the time to do this tour! We decided while at Kennecott to do the mine tour. My family loved learning all about the mines, how they were operated and life living at Kennecott. Jeremiah, our tour guide, was so knowledgeable and fun. Definitely worth doing while visiting.
robino572 | 2022
Meet the incredible guides that are the heart of our trips!
Who are the guides that make up the St. Elias Alpine Guides team? They are a diverse and competent group of people from all across the country. Their extensive outdoor experience, wilderness medical training, and great personalities make them stand out from the crowd. We put them through a thorough training program unique to our area – glaciology lessons, backcountry navigation, and training trips on the slopes of the Wrangell Mountains add to our guides' abilities to adapt and dominate in the diverse terrain of WSENP. From a glacier hike to an 8-day expedition, they'll be sure to make it a trip of a lifetime!

Because our schedule is as dynamic as the environment we live in, we usually assign guides the night before for our Day Trips. And while we can't guarantee who your guide will be – we love and trust every one of them and we know you will too!