NIZINA GLACIER
FLY-IN LAKE PADDLE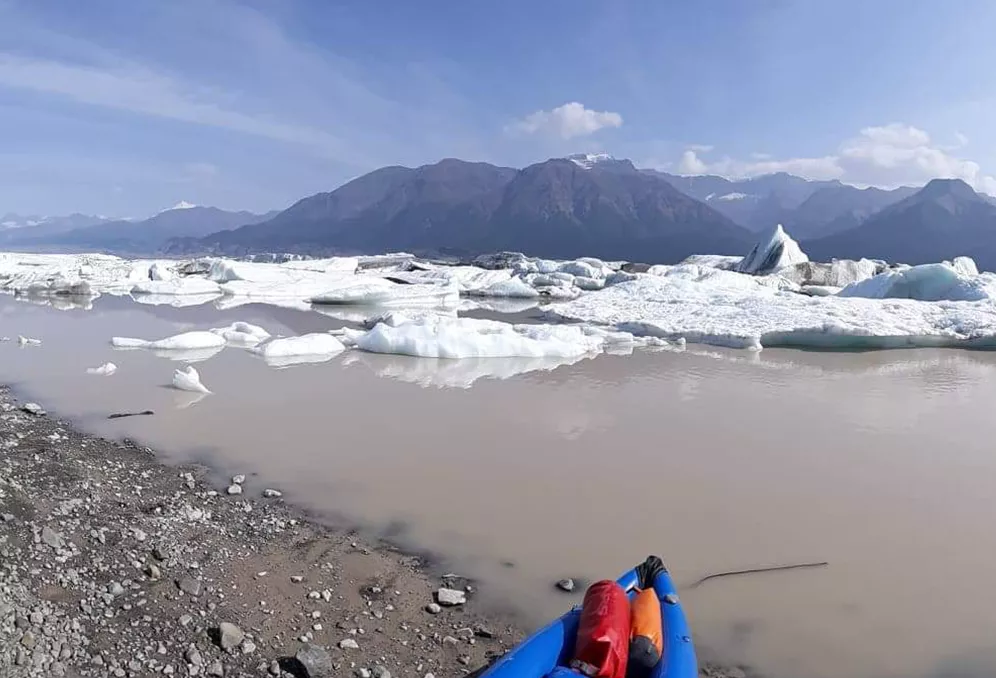 Paddle among massive building-sized icebergs!
Looking for a uniquely Alaskan excursion? Then look no further! Fly into the backcountry of Wrangell-St Elias National Park to Nizina Valley where, prior to landing, you'll get overhead views of the impressive icebergs that fill Nizina Lake. Fed by the Nizina Glacier, your objective for the day is to hike a ¼ mile to the edge of the lake, inflate and board your packraft, and set off! If you thought the icebergs from the air were impressive, just wait until you're paddling among them. You'll follow your guide as they skillfully navigate through the hundreds of icebergs that fill this lake. Along the way, you'll be sure to find unique features in the ice that will likely only ever be seen by you.
ADVANCED RESERVATIONS STRONGLY ENCOURAGED!
Here in Alaska we're faced with what we like to call "The Alaska Factor." Alaska's wild and untamed landscape offers us the opportunity to authentically explore true wilderness. Part of embracing the Alaska Factor is understanding that things may not always go as planned. Water levels might rise, snow might fall, glaciers might shift and move – the landscape is dynamic and unpredictable. That's what makes Alaska, Alaska!
It's important to expect the unexpected! Weather may cause delays, reroutes, or unplanned overnight trips. Although extremely unlikely, there is a small chance unfavorable weather conditions may require you and your guide to stay overnight in the backcountry. On all of our Fly-In Trips, your guide will come prepared with an overnight bag that includes shelter, sleeping bags/pads, and food for your group. Your guide will also have a satellite phone in order to communicate with the flight service. The Alaska Factor makes anything possible, and we'll always come prepared! Unexpected reroutes that result in a longer flight will incur additional fees. You will be responsible for covering the cost of these fees.
Price
1 participant – $3,234 total
2 participants – $3,234 total
3 participants – $4,419 total
4 participants – $7,240 total
5 participants – $9,050 total
6 participants – $12,222 total
Elevation gain/loss
Up to 100 ft
Terrain 
Uneven trail surfaces, loose rock, cold glacial water
Tour Length
Full day (variable start and end time)
Dates Offered
Daily  from June 15th – September 1st, 2024
Age Limit
Must be age 3 or older
Group Size
Always private!
A full day paddling among massive icebergs in the Alaskan backcountry

Striking views of the Nizina Glacier and the mountains beyond

Two 15-minute scenic bush plane flights!

Access to the remote Alaskan wilderness without camping
Experienced and knowledgeable guide

15-minute bush plane flights there and back

Packraft, neoprene top, PFD (personal flotation device), rubber boots, splash gear, and a dry bag

Emergency overnight gear

Roundtrip ground transportation!
Come prepared with the following:
Rain Gear –

Both jacket and pants!

Warm Layers – NO COTTON!
Warm Hat and Sun Hat
Sunglasses and Sunscreen
Rain/Rubber Boots –

We do have loaner boots available if needed.

Snack and Water Bottle
Camera/Phone to Take Pictures!
Once you book your trip, you'll receive a confirmation with all the information you need!
Glacier Activities – Yes, you do need to bring your own lunch. Bringing lunch is highly recommended to help keep you fueled during your time out on the glacier, especially for the Full-Day Hike or Ice Climbing!

Fly-In Activities – Yes. You'll be out in the Backcountry from morning until evening, so you'll definitely want to bring a lunch

Raft & Flightsee – No, lunch is provided! Please let us know at the time of your booking if you have any allergies or dietary restrictions.

Kayaking Activities – Yes, you do need to bring your own lunch.

You're welcome to reserve a Snack Pack for $8 or purchase one at our office at the start of your hike. If you are staying at the Kennicott Glacier Lodge and have purchased a meal plan, they will provide you with a sack lunch for the day.
Should I tip my guide? How Much?
Tipping is customary in the guiding industry and always appreciated. Our guides are paid professionals but tips make up a significant portion of their income and can go a long way toward making guiding a feasible long-term career choice. For our day trips, a good estimate is between 10% and 20% of the trip cost. So if you go on a day hike or climb with us, that would come to between $10 and $35 per person, depending on the trip and the percentage. As in any industry, your tip should be based on the service you feel you received. If you had the time of your life, the sky's the limit! You can tip your guides in cash, via Venmo or you can leave a gratuity on your card. If your trip includes a flight you should plan on tipping your pilot independently, any amount that you pre-tip will go to your guide directly. Thank you for considering this ahead of time!
How long has St. Elias Alpine Guides been around?
St. Elias Alpine Guides was started in McCarthy in 1978 by legendary climber Bob Jacobs who wanted to explore even more remote wilds and was feeling like Denali was getting too crowded even back in the 70s! The current owners worked as guides for the company for many years before taking over the business and are only the third owners in 40 years! We've been around longer than the Park itself and are the longest continually operating business in the area. We are proud of our long and consistent legacy in the most magnificent wilderness on earth! To learn more about us, click here.
FULL FAQ PAGE
WOW! We had such an incredible time visiting this beautiful place. Tim, our guide, enhanced our experience with his friendly demeanor and vast knowledge of the area (and offering a hot beverage on a cold hike was the cherry on top)! Skolai pass was one of the most beautiful places we've ever been -
...
Margo Henerson | 2022
The scenery was amazing, the experience was great, the guides were amazing!!
John Sargent | 2022
It seemed overpriced at first, but was worth every penny! A peak experience and the best of almost three weeks in Alaska visiting every national park. A+
F. Scott Biddy | 2022
We had a great day with Tristian out at the Seven Sisters in Skolai Pass! He was enthusiastic about the day and was great to explore the pass with. We encountered some foul weather towards the end, but Tristian was well prepared in the event that we would have to unexpectedly overnight at the
...
Brendan Vermeulen | 2022
Meet the incredible guides that are the heart of our trips!
Who are the guides that make up the St. Elias Alpine Guides team? They are a diverse and competent group of people from all across the country. Their extensive outdoor experience, wilderness medical training, and great personalities make them stand out from the crowd. We put them through a thorough training program unique to our area – glaciology lessons, backcountry navigation, and training trips on the slopes of the Wrangell Mountains add to our guides' abilities to adapt and dominate in the diverse terrain of WSENP. From a glacier hike to an 8-day expedition, they'll be sure to make it a trip of a lifetime!

Because our schedule is as dynamic as the environment we live in, we usually assign guides the night before for our Day Trips. And while we can't guarantee who your guide will be – we love and trust every one of them and we know you will too!