KENNICOTT GLACIER
LAKE PADDLING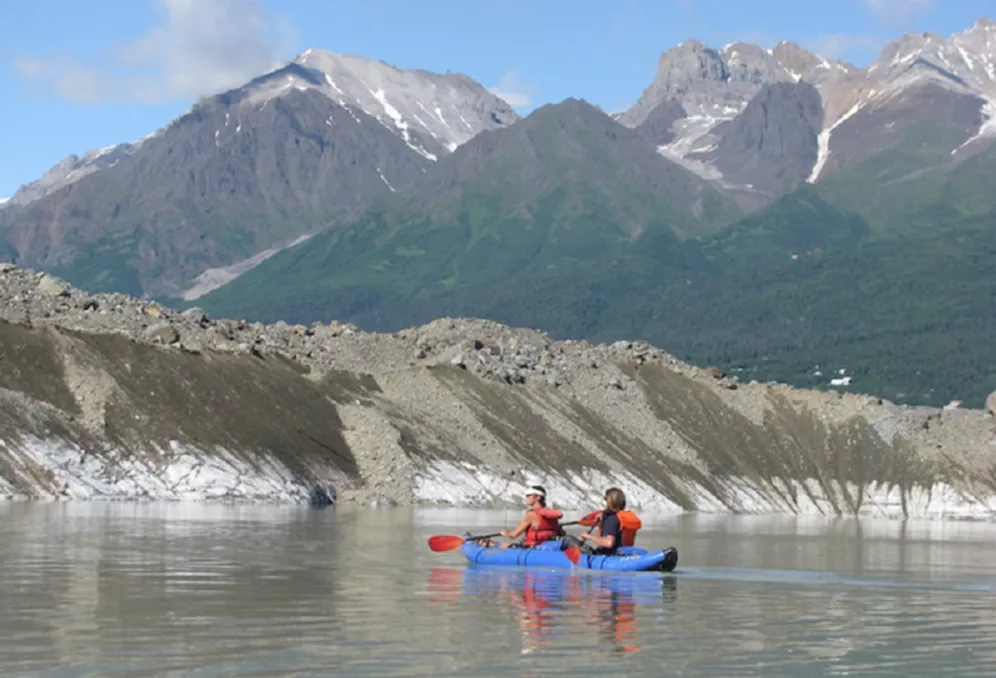 Explore the moonscape at the toe of the Kennicott Glacier!
Paddle your own inflatable kayak along the rocky "moonscape" at the toe of the Kennicott Glacier. Explore new passages that change from summer to summer, giving you access to never-before-seen alcoves in the ice. Along the way, you'll catch incredible views of the 7,000 ft Stairway Icefall and 16,390 ft Mt. Blackburn!
This excursion is great for families with small children age 3 or older or for visitors who have limited mobility but still want an adventure! As you explore the glacial lake, your guide will explain the glacial features you are seeing and how this surreal landscape was formed. You'll even get the chance to step on the rock-covered surface of the Kennicott Glacier! 
Want the full itinerary? See our Kennicott Glacier Lake Paddle Itinerary for more information!
ADVANCED RESERVATIONS STRONGLY ENCOURAGED!
Price
Adult(13+) $115
Child(12-) $95
Terrain 
Uneven trail surfaces, calm flat-water
Tour Length – Day Trip
3-4 hours
Dates Offered
Daily from June 1st – September 1st, 2024
Tour Start Times
1:30 pm in McCarthy
Additional 9:30 am start time from July 1st to August 15th
Age Limit
Must be age 3 or older
Group Size
Limited availability – maximum 6 guests to 1 guide per time slot
Serene paddling at the toe of the Kennicott Glacier

Fascinating moonscape of rock and ice

Views of the 7,000 ft high Stairway Icefall and the 16,390 ft Mt. Blackburn

Knowledgeable guide with local information on the geology, glaciology, flora, and fauna
Experienced and knowledgeable guide

Inflatable kayak, neoprene top, PFD (personal flotation device), rubber boots, splash gear, and a dry bag

Roundtrip transportation to and from McCarthy!
(Pick-up time and location vary depending on your lodging location. Please reference your confirmation for specific details.)
Personal gear (see equipment list)
Come prepared with the following:
Rain Gear – Both jacket and pants!
Warm Layers – NO COTTON!
Warm Hat and Sun Hat
Sunglasses and Sunscreen
Rain/Rubber Boots – We do have loaner boots available if needed.
Snack and Water Bottle
Camera/Phone to Take Pictures!
Once you book your trip, you'll receive a confirmation with all the information you need!
We are located in the heart of Wrangell – St. Elias National Park. There is a 60mi dirt road that connects us to the highway system and there is also an airstrip in town!
There are several options for getting to McCarthy-Kennecott – driving, riding in a van shuttle, taking a scheduled or chartered flight, or some combination of these options. Please visit our Transportation+Lodging page for more detailed information.
Should I tip my guide? How Much?
Tipping is customary in the guiding industry and always appreciated. Our guides are paid professionals but tips make up a significant portion of their income and can go a long way toward making guiding a feasible long-term career choice. For our day trips, a good estimate is between 10% and 20% of the trip cost. So if you go on a day hike or climb with us, that would come to between $10 and $35 per person, depending on the trip and the percentage. As in any industry, your tip should be based on the service you feel you received. If you had the time of your life, the sky's the limit! You can tip your guides in cash, via Venmo or you can leave a gratuity on your card. If your trip includes a flight you should plan on tipping your pilot independently, any amount that you pre-tip will go to your guide directly. Thank you for considering this ahead of time!
How long has St. Elias Alpine Guides been around?
St. Elias Alpine Guides was started in McCarthy in 1978 by legendary climber Bob Jacobs who wanted to explore even more remote wilds and was feeling like Denali was getting too crowded even back in the 70s! The current owners worked as guides for the company for many years before taking over the business and are only the third owners in 40 years! We've been around longer than the Park itself and are the longest continually operating business in the area. We are proud of our long and consistent legacy in the most magnificent wilderness on earth! To learn more about us, click here.
FULL FAQ PAGE
Jeremiah did a great job not only leading us to interesting view points on the lake but also led us on the glacier to explore some cool ice faces, ice caves, and other cool sites.
Anonymous | 2022
Paddling with Kelly was like meeting a new and peaceful friend. We paddled, looked, learned and shared. Our last adventure with her was a heart-warming closure for our stay! Thank you!
Joanne Flag | 2021
Meet the incredible guides that are the heart of our trips!
Who are the guides that make up the St. Elias Alpine Guides team? They are a diverse and competent group of people from all across the country. Their extensive outdoor experience, wilderness medical training, and great personalities make them stand out from the crowd. We put them through a thorough training program unique to our area – glaciology lessons, backcountry navigation, and training trips on the slopes of the Wrangell Mountains add to our guides' abilities to adapt and dominate in the diverse terrain of WSENP. From a glacier hike to an 8-day expedition, they'll be sure to make it a trip of a lifetime!

Because our schedule is as dynamic as the environment we live in, we usually assign guides the night before for our Day Trips. And while we can't guarantee who your guide will be – we love and trust every one of them and we know you will too!