INTRODUCTION TO ALASKA
MOUNTAINEERING COURSE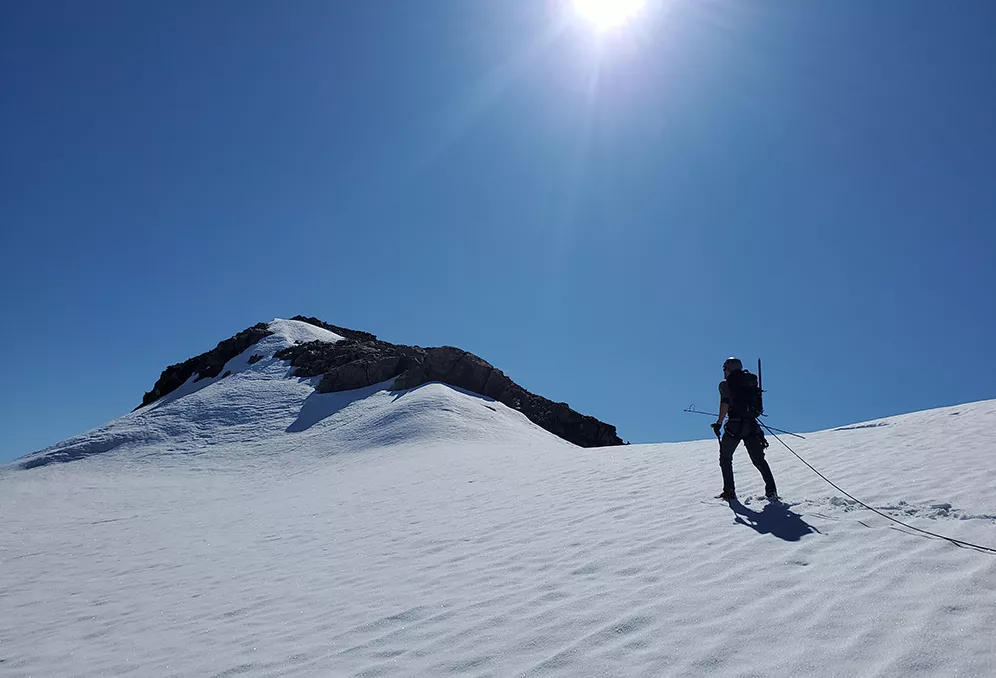 Learn how to climb an Alaskan peak!
Fly deep into the Chugach Mountains to access a remote valley for this comprehensive Alaska mountaineering course. Mountaineering puts together the skills of rock, snow, and ice climbing with trip planning and risk mitigation, to execute a successful alpine expedition. Deepen your understanding of these techniques and open the door to greater adventures.
Total Elevation Gain/Loss
4,000
Rates:
Private Solo
$7,600
Private 2 Participants
$4,575/person
Private 3-8 Participants
$3,960/person
Group
$3,230/person
Group Trip Dates:
June 23-29, 2024
Aug 18-24, 2024
Private Trips with custom dates are available. Schedule a call with our Expedition Coordinator to plan your Private Trip today!
ITINERARY
WHAT'S INCLUDED
LOGISTICS
FITNESS & EXPERIENCE EXPECTATIONS
ITINERARY
The "Alaska Factor"
There is a reason Alaska has such a rugged allure for the lower 48 and beyond: it is still wild! This raw and untamed landscape offers our clients the opportunity to authentically pioneer new territory and have real adventures. Part of embracing the "Alaska Factor" is understanding that things may not always go as planned and expecting the unexpected. Water levels might rise, snow might fall, glaciers may shift and move – the landscape is dynamic and unpredictable is what makes Alaska, Alaska!
All of our trips are customized as they unfold and your guide will fluidly make decisions based on weather, logistics, and group dynamics to maximize each day's experience. There can be quite a bit of variation, but on each trip we promise a big slice of the real Alaska and authentic adventure!
DAY 1
Meet your van shuttle in Anchorage and get ready for the long and super scenic drive to McCarthy. With a few breaks at scenic spots, you'll be arriving with the rest of the trip participants around 5pm in McCarthy and your guides will be there to meet you. They'll show you to the rustic bunkrooms of our historic
Motherlode
Powerhouse HQ building, cook you dinner and run you through an evening orientation and group pack..
DAY 2
After breakfast, you'll head to the airstrip and hop on a small bush plane for a stunning 45min flight deep into the Chugach Mountains. Enjoy the views of the largest National Park in the country! Landing at the airstrip, take a moment to take in your gorgeous and inspiring surroundings! It will take you a couple of hours to lug your gear to the perfect camping area where you'll set up camp and set the stage for many more adventures to come! Todays lessons will be shorter and you'll spend some time exploring your outdoor classroom.
DAY 3-5
Each subsequent day will begin with a delicious breakfast and a plan for the day. The exact curriculum will largely be determined by the abilities and interests of the group participants and also the weather and conditions. On good-weather days we'll prioritize being outside and moving higher up on the mountain for various lessons and employ the learning-by-doing method. If it's cloudy and drizzley, we'll pick outdoor classrooms closer to camp and if it gets too wet, we'll pile into our cook tent(s) for some tent learning. Most nights you will return to the same camp and enjoy a hearty dinner cooked up by your guides.
At some point on the trip, it is our goal to attempt a climb of one of the local summits together, allowing you the opportunity to solidify your new skills with practice. Sometimes this climb happens at the end of the trip and takes a day or two and sometimes the climb begins right away and learning happens on the go – the timing here is very much dictated by our weather forecasting and the conditions we find. Please remember that we cannot control the weather, and out here, we can hardly predict it either! There are no weather stations around for hundreds of miles and many large mountains in between them, so we do our best with the technology available and our own skills on location. There is always a chance that the climb might not be possible due to weather or the abilities of the group, and if this is the case, your guide(s) will do their best to capitalize on what is available to the group and facilitate a different and equally memorable learning opportunity.
DAY 6
You'll have the majority of the last day in the backcountry, so plan on learning up to the last minute! After your last day's worth of lessons and practice, you'll begin to break-down camp and start shuttling your gear back to the strip. A late-afternoon pick up will allow you to get a birds-eye view of these incredible mountains in a different light as you fly back to McCarthy.
Back from the wilds but not entirely in civilization quite yet, you'll be welcomed back to our guide campus, enjoy a cold beverage in our hot sauna and a warm bed in our historic bunkrooms again.
DAY 7
This morning you'll enjoy one final breakfast together, provided by your guides, before hopping on a van shuttle to reverse the drive back to Anchorage. Another opportunity to get some phenomenal Alaskan photos or perhaps be rocked to sleep by the bumpy road. You'll arrive in Anchorage around 5pm and we recommend spending this night in Anchorage before flying home or your next Alaskan adventure. This will allow some buffer in your itinerary for any unexpected delays.
Safe travels!
WHAT'S INCLUDED
LOGISTICS
FITNESS & EXPERIENCE EXPECTATIONS
We've done a 5-day Intro to Mountaineering and 5 day backpacking on the Upper Goat Trail with SEAG. The guides were very experienced, super-friendly and very motivating. We learnt a lot about mountaineering skills on the first trip - ideal introduction to mountaineering! We now feel ready to hit the mountains on our own! The
...
Astrid031 | 2016
Want to book a Private Trip or not sure if this is the right trip for you? Schedule a call with our Expedition Coordinator at a time that works well for you. She'll help you narrow down which trip is best for you and answer any questions you have about our trips, the local area or surrounding logistics.
GET IN TOUCH
WITH AN EXPEDITION
COORDINATOR
How do I decide which Mountaineering trip is best for me?
Consider what your goals are for this expedition:
Are they to learn as much as possible? If yes, we recommend a Course. A Course-style trip is completely focused on learning and solidifying your mountain skills to set you up for the next big adventure.
Is your goal just to have fun? Although fun is more of a state of mind that you can bring on any trip, our most fun-focused mountaineering trip is going to be our Chugach Backcountry Ski Basecamp. If you're not a backcountry skier or rider, consider signing up for a Private Custom trip and we can create the perfect fun-filled adventure for you!
If your goal is to conquor a major Alaska summit you should be looking at our objective-based expeditions, anything with "Mt. ...." in the title. Here the objective is to summit and descend safely. Each mountain requires something different so check out each trip and use the Alaska rating system to determine what level of difficulty or technicality you are ready for.

Remember that whatever your goals are, you can definitely have fun and learn on any trip - that part is up to you!
Will the Intro to Mountaineering Course prepare me for an Objective-based Expedition?
Yes! Our Intro to Mountaineering Course is designed to teach you the basic skills you need to join an Alaskan big-mountain expedition. Remember that an objective-based expedition also requires excellent fitness, so we require physical training in addition to a comfortable knowledge and skills base. Because we always have to vet applicants for our objective-based trips, those that have done any type of multi-day adventure with our company already have a leg up - our guides have been out in the field with you and can comfortably make a recomendation on which summit is best for you.

The most typical progression for climbers is to join our Intro to Mountaineering Course, knock out a big summit or two in the lower-48 (something like Rainier, Baker or Shasta) and then join us on a non-technical, high-altitude expedition like Mt. Bear or Mt. Bona. After one remote, Alaskan big-mountain objective is complete, don't blame us when the cravings start and you set your sights on the even more challenging Mt. Blackburn!
What will we eat in the backcountry?
We pride ourselves on cooking healthy and delicious meals even under the most adverse conditions! Your exact menu will depend on the trip, your guide, and the dietary preferences/restrictions you list in your Trip Application. No matter what kind of cook your guide is at home, all our guides are well-trained backcountry chefs and use time-tested recipes from our proprietary cookbook for their trips. We carry a plentiful and varied stock of ingredients and most meals are prepared from scratch (allowing for easy substitutions, additions or subtractions of ingredients). We onlyt use pre-packed freeze-dried meals on summit pushes on our mountaineering expeditions.

On our backpacking and basecamp trips, you can expect 3 meals a day, plus snacks of your choice. Breakfasts and dinners are usually hot meals and lunches are served cold. On mountaineering trips lunches consist of a variety of snacks as it can be hard to organize group meals while on a rope team.
We use a combination of fresh, dehydrated, and freeze-dried ingredients to make our delicious meals, however on longer backpacking and mountaineering trips your guides will use more freeze-dried foods than fresh foods to keep pack weights as low as possible. On our rafting trips, we cook full multi-course meals with fresh ingredients and enjoy hot and cold breakfasts, cold lunches and hot dinners.

Meals for most trips start with Lunch on the first day and end with Lunch on the last day. *

*If you are signed up for a Custom Trip Package with us, it may include more meals. Check with us if you're not sure. Mountaineering trips also include meals in McCarthy before and after the backcountry expedition.
FULL FAQ PAGE