BACKCOUNTRY PHOTOGRAPHY
BACKPACKING TRIP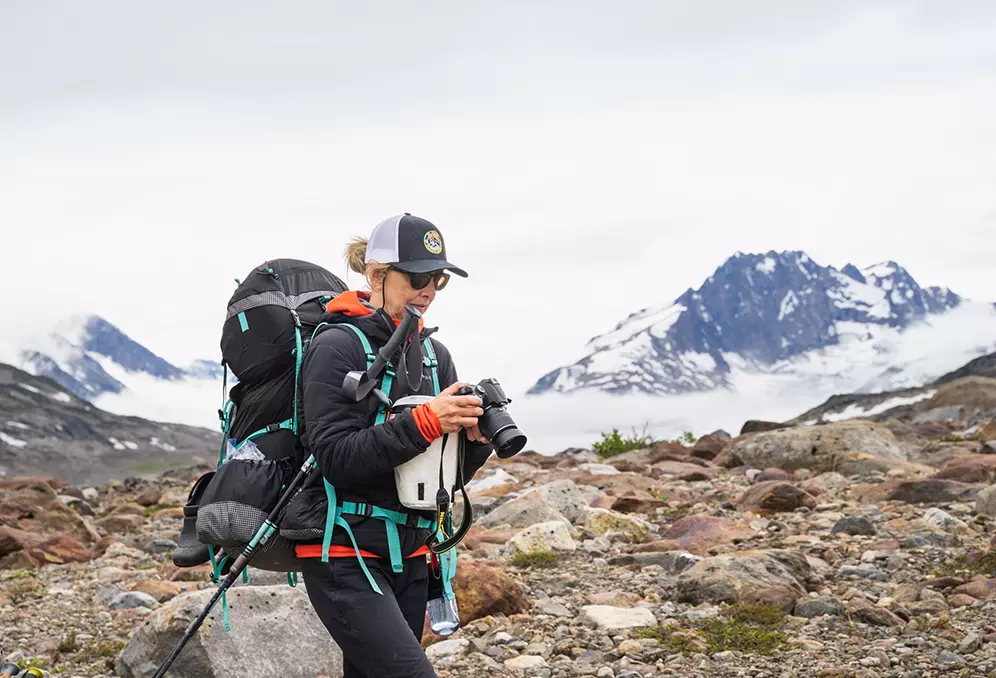 Capture the epicness of Alaska!
Go deep into the heart of the real Alaska wilderness to spend several days shooting photos while camping and hiking in one of the world's most beautiful and rugged places! Whether you're a novice or advanced photographer, shoot on Mirrorless, DSLR or smartphone camera, this Alaska backcountry photography course will teach you the essential skills to level up your photography while thriving in a challenging and dynamic wilderness environment. After flying deep into the Chugach Mountains participants will spend five days backpacking and learning new photography techniques in breathtaking landscapes of mountains, glaciers, and tundra.
Total Elevation Gain/Loss
4,000
Rates:
Groups
$2,900/person
Group Trip Dates:
Aug 7-12, 2023
Private Trips with custom dates may be available. Schedule a call with our Expedition Coordinator to plan your Private Trip today!
ITINERARY
WHAT'S INCLUDED
LOGISTICS
ITINERARY
The "Alaska Factor"
There is a reason Alaska has such a rugged allure for the lower 48 and beyond: it is still wild! This raw and untamed landscape offers our clients the opportunity to authentically pioneer new territory and have real adventures. Part of embracing the "Alaska Factor" is understanding that things may not always go as planned and expecting the unexpected. Water levels might rise, snow might fall, glaciers may shift and move – the landscape is dynamic and unpredictable is what makes Alaska, Alaska!
All of our trips are customized as they unfold and your guide will fluidly make decisions based on weather, logistics, and group dynamics to maximize each day's experience. There can be quite a bit of variation, but on each trip we promise a big slice of the real Alaska and authentic adventure!
DAY 0
Meet your guide in McCarthy the day before your trip for Orientation and Gear Shakedown. After making sure you are totally prepared for the adventure ahead, your guide will make sure to get you to your lodging that night and coordinate plans for tomorrow's pick-up.
DAY 1
After landing on the sandy airstrip, you will carry your gear a short distance from the airstrip to set up your camp. Hike along the glacial river to a scenic point overlooking the west lobe of the Tana Glacier while taking plenty of photos and establishing each photographer's goals for the remainder of the trip.
DAY 2
Today you will pack up camp and backpack a full day to a stunning location high in the tundra that overlooks glacial valleys below. You will cross a variety of terrain including rock, sand, snow and ice – yes, today you'll cross a glacier! Along the way, we'll stop to take photos of dramatic hanging glaciers, beautiful alpine lakes and an abundance of wildflowers as we discuss various techniques and strategies for taking photos while backpacking in Alaska.
DAY 3
A hearty breakfast fuels you up for another full day of exploring this undeveloped wonderland. Pack a lighter bag with all your camera gear and spend the day hiking and exploring the area while focusing on learning how to take compelling photos in a wilderness environment. Return to camp for enjoy a little walk around the sands while your guide prepares another outstanding wilderness recipe.
DAY 4
After a hearty breakfast you will pack up camp to return to the airstrip area. You will cross the glacier again as you did in Day 2 but this time you will focus on exploring and shooting photos in this otherworldly landscape. Today's focus will be to use and combine the new techniques that you have learned to take your photo skills to the next level. and capture the more challenging shots on your route.
DAY 5
Today is all about soaking it in! During breakfast you will discuss what you have learned, ask any final questions and your instructor will recommend further steps for meeting your photography objectives. There will be further opportunities for taking photos and taking another hike before packing up camp. As you wait for your pick-up, the buzz of the bush plane will be the first sign of civilization in nearly a week. A scenic flight through the beautiful Chugach Mountains will be the perfect ending to your Alaska adventure!
WHAT'S INCLUDED
LOGISTICS
We did the half day glacier tour. In a word - amazing. We had no idea what a glacier was like. A lot more than ice, that's for sure. Our guide (Kate) was informative and moved exactly at our pace. Took lots of pictures; so many different views!
therchline | 2021
Can't plan the weather and boy did it rain ... but our guide, Gus was great. Booked a private all day glacier tour so we could hike and photograph the glaciers at our own pace. Glacier hikes happen rain or shine and even though the weather left something to be desired Gus's positive attitude along
...
N4811EQellen | 2020
How do I decide what Multi-Day trip to do?
All the pictures and descriptions sound amazing! How do I know what's right for me? Here are some things to think about when selecting a trip:

What is my #1 goal for this adventure? Do I want to relax and get away from a hectic schedule? Do I want to push myself on an epic and athletically challenging journey? Create life-long memories with my family or partner? Learn skills from the experts and grow my scope as a mountain athlete? See new landscapes and experience Alaska's unique glaciated terrain?
What are my interests? Birding, animals, photography, geology, wildflowers, journaling, athleticism, spirituality, art, technical climbing, etc.
Will this trip be part of a bigger Alaska trip? Where else am I going and what else will I see? Our glaciated terrain, history, high-altitude peaks, and vast backcountry wilderness are what set us apart from other areas in Alaska.
What am I comfortable with at my current level of knowledge, experience, and physical and mental ability? Alaska is bigger and tougher than anything in the lower 48 and it's a great place to push yourself, but you want to be realistic and make sure you have a good foundation to build upon if reaching for higher heights.
What will we eat in the backcountry?
We pride ourselves on cooking healthy and delicious meals even under the most adverse conditions! Your exact menu will depend on the trip, your guide, and the dietary preferences/restrictions you list in your Trip Application. No matter what kind of cook your guide is at home, all our guides are well-trained backcountry chefs and use time-tested recipes from our proprietary cookbook for their trips. We carry a plentiful and varied stock of ingredients and most meals are prepared from scratch (allowing for easy substitutions, additions or subtractions of ingredients). We onlyt use pre-packed freeze-dried meals on summit pushes on our mountaineering expeditions.

On our backpacking and basecamp trips, you can expect 3 meals a day, plus snacks of your choice. Breakfasts and dinners are usually hot meals and lunches are served cold. On mountaineering trips lunches consist of a variety of snacks as it can be hard to organize group meals while on a rope team.
We use a combination of fresh, dehydrated, and freeze-dried ingredients to make our delicious meals, however on longer backpacking and mountaineering trips your guides will use more freeze-dried foods than fresh foods to keep pack weights as low as possible. On our rafting trips, we cook full multi-course meals with fresh ingredients and enjoy hot and cold breakfasts, cold lunches and hot dinners.

Meals for most trips start with Lunch on the first day and end with Lunch on the last day. *

*If you are signed up for a Custom Trip Package with us, it may include more meals. Check with us if you're not sure. Mountaineering trips also include meals in McCarthy before and after the backcountry expedition.
Where can I store my luggage while I'm in the backcountry?
We understand that you may have luggage or things you don't want to bring into the backcountry with you so we have a designated area at our headquarters where your guide will label and store your stuff while you're out. This area is not locked, however, we have never had any issues with loss or damage. If you have a small item of great value that you are particularly nervous about, we may be able to store it in our office for you – just ask your guide.

On the Chitina River, Copper River, Source to Sea, or Custom Trips with different start and end points, any luggage you leave behind with us will be brought out to meet you at the end of the trip.
FULL FAQ PAGE
Want to book a Private Trip or not sure if this is the right trip for you? Schedule a call with our Expedition Coordinator at a time that works well for you. She'll help you narrow down which trip is best for you and answer any questions you have about our trips, the local area or surrounding logistics.
GET IN TOUCH
WITH AN EXPEDITION
COORDINATOR!