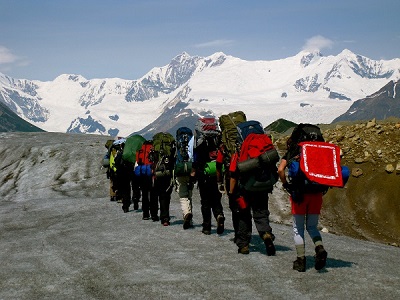 By Ethan Moorhead
There is no greater single issue facing outdoorsmen, irrespective of where on earth they play, than how to keep their dry things dry. An unanticipated storm or slip during a creek crossing can leave feet clammy, sleeping bags useless, and the whole trip ruined. Be it boots or rain jackets, the gear industry is constantly striving to find newer and better ways to keep us away from the elements and more comfortable. But the good news is that they found a solution for many of these problems years ago: the black garbage bag.
Guiding in Alaska drives home the importance of dryness on a daily basis. Our frequent days of slow but constant rain will seep through even the best hardshell layers and Gore-Tex boots. Momentary stops on glaciers will soak through the bottom of a pack, and our creeks run fast and cold. But despite all this moisture constantly trying to get us down, a black garbage bag will save the day.
Rather than buying an expensive pack-cover (that will likely not fit if you have an ice axe or other gear strapped to the outside of your pack) simply line your whole pack with one black bag and you are set! Sure, your pack will get wet, but it will not soak through to your gear, and it costs practically nothing. Stuffing your sleeping bag and clothes inside their own secondary trash bags makes a system that will keep your gear dry even if submerged.
These lightweight and very compressible multitaskers are worth shoving in your pockets to use for other odd-jobs too! Got a leaky tent or ground cloth? Lay the bags under or over your sleeping bag to keep it dry all night. Need an emergency raincoat? Cut holes for your head and arms and enjoy the newest fashion. They are indispensable as layers in a hypothermia kit if someone gets too cold and you can even fill them with your trash at the end of the trip!
Don't get me wrong, I love Gore-Tex as much as the next guide, but when it comes to keeping my backpack and gear dry, I shirk the expensive dry-bags and go straight for plain black garbage bags. However you use them, their low cost, low weight, compressibility, and complete waterproofness all prove that one man's trash bag is a Alaska backpackers treasure.