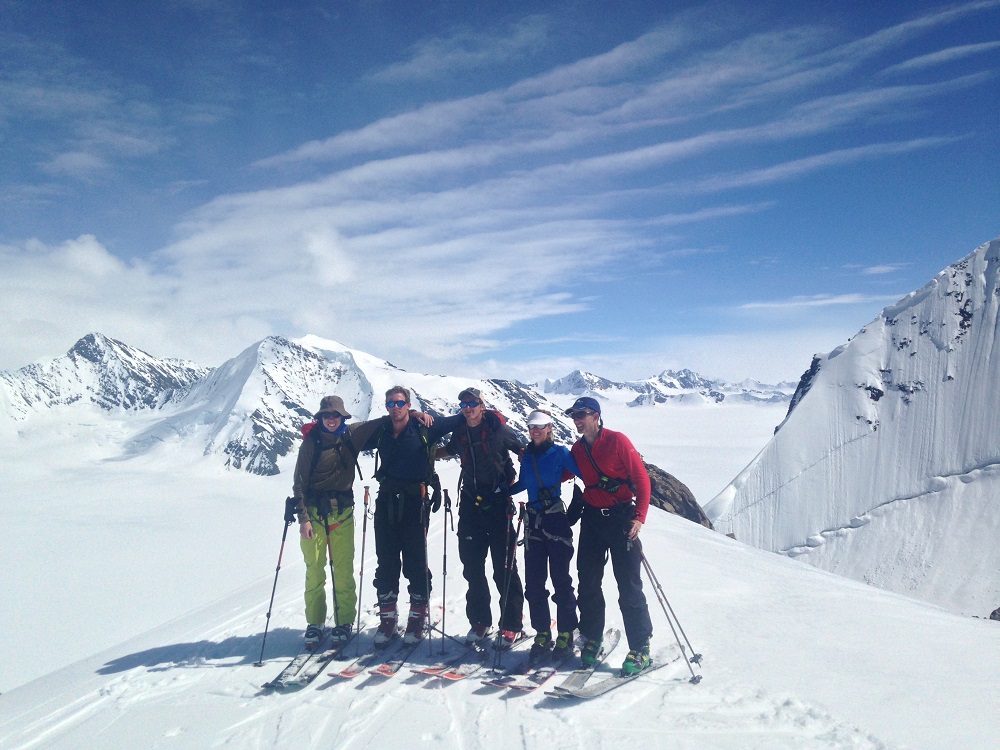 The best schools come in all shapes and sizes, but few are better than the upper Baldwin Glacier. In early June, two guides and five guests flew out to the Baldwin to learn the finer points of backcountry ski mountaineering in a remote Alaskan classroom. Over the course of five days in the backcountry, guides Anya and Tim taught the group rope team skills, crevasse rescue, and navigation and route-finding. However it wasn't just teaching and learning on this trip. The hearty crew enjoyed bountiful turns of endless powder as they skied numerous peaks and couloirs out from their Alaska basecamp.
After gathering in McCarthy for a gear check, Anya, Tim and their five clients enjoyed a 45 minute flight out to the Baldwin Glacier. Coming from all over the world, the team included ski racers from Richmond, Virginia, a physicist from Switzerland, and a lawyer from Australia. On Day 1, after setting up camp, they took a short tour before settling in for a lesson on avalanche rescue and beacon use.
The morning of Day 2 saw more skills lessons put into practice as Anya (gleefully) jumped into a crevasse and the team hauled her out. In case her family is reading this, Anya describes the jump as "great fun, short and safe." The group spent the afternoon taking laps and touring up on the peaks surrounding camp. Day 3 was all skiing, all the time, as they took four tours on new peaks near camp, including a previously unclimbed couloir they dubbed "Punter's Passage." The couloir was narrow and steep enough to require belay access. Rodney took stunning pictures of the terrain, while Winston and Turner, ski racers extraordinaire, carved grand slalom turns all over the glacier.
Unfortunately, the bluebird weather they'd been enjoying began to disappear on Day 4. The team found themselves socked in early on, but were still able to get in a few tours of "mixed skiing" routes in the afternoon. They arranged to be picked up a day early on Day 5, and after a great round of frisbee and one last morning of Annabelle's snow yoga, they were picked up and flown them back to McCarthy for a well deserved sauna and pizza party.
With an extra day back in town, our ski mountaineers were able to join forces with our Mt. Blackburn expedition crew–temporarily delayed in McCarthy by weather–for a day of ice climbing on the Root Glacier. The timing was fortuitous, as ski client Oscar bonded with the Blackburn team and decided to join the expedition last-minute. Currently, he's on his second mountaineering trip in as many weeks! You never know what will happen when you're caught up in the Wrangell-St. Elias spirit!  
While spring is skiing and mountaineering season in Wrangell St. Elias National Park, our river trips are right around the corner. For all you river lovers – stay tuned for more exciting stories from McCarthy – on liquid water this time, instead of frozen water!